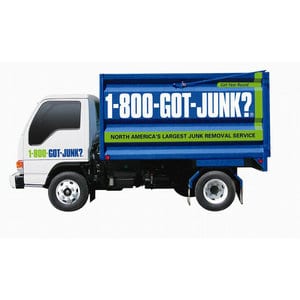 Face it, nobody likes doing the dirty work, and that might be why 1-800-Got-Junk got so popular. The premise is simple enough: a toll-free call gets the situation sorted for you, and you can get back to more important, and cleaner, tasks. But is all of your junk and trash woes just a phone call away from being solved, or does this service cost an arm and a leg for something you could do yourself?
Overview
Life comes with its fair share of junk, and when it gets to a point when you don't want to look at it anymore, or you need it gone because of a big renovation or you just don't have room for it, what can you do? You can try to haul it somewhere yourself, but this uses up your time, your energy, your back, and could end up doing damage to your car. You can call an unlicensed company to come and get rid of it, but there's no telling where they'll take it, or how much they'll charge. The 1-800-Got-Junk company hopes to be that perfect third option.
The Claim
You point to the junk and it disappears. Sounds magical, but that's the claim made by 1-800-Got-Junk. They can take all sorts of things, big bulky stuff you wouldn't want to lift, dirty dusty stuff you don't want to stick your face near, everything from old furniture, appliances, electronics, tires, construction debris, or yard waste, and anything else that can be picked up and hauled, that isn't on their hazardous materials list.
The Hype
The hype comes from how ubiquitous the Got Junk trucks are. In almost every major city you see them rolling around, or parked in front of an office. They are definitely running a solid business model to be able to grow so fast, and stay in business for so long.
The Cost
The cost structure seems to be well thought out and consumer friendly. Rather than charging you by how long it takes them to remove the junk, you're charged by how much space your junk takes up. It's just two guys and a truck, not a virtual SWAT team here, so you wouldn't want to pay by the time it takes. This ensures that you're getting an honest price, and you don't have to babysit them while they do their job to make sure they're not wasting any time. It also keeps them hopping because the faster they can get your junk out of there, the faster they can move on to the next customer and make more money.
Their minimum cost is $139 and the most you'll spend is $600 to load up the whole truck. When you consider that the price they give you is all inclusive, it's a pretty good deal. If you do it on your own you're going to have to find a place that will take your junk, and still pay a fee in order for them to accept it. Factor in the gas used to drive it there and return home, plus the time lost from your day, and it seems rather fair.
The Commitment
The commitment level here is probably the strongest selling point of 1-800-Go-Junk. They say that all you have to do is point to the junk you want removed, give the go ahead, and it disappears. If this doesn't make you feel like the Genie from Aladdin's lamp I don't know what will. If you try to get rid of your junk on your own, you're talking about a huge commitment level, especially if it's dirty junk, or something that's going to damage the interior of your car, or cause you to throw your back out getting it out of your home and to the disposal facility.
Evaluation
1-800-Got-Junk seems to want to be the perfect solution to your junk removal needs. They get glowing reviews from nearly every single review site, and they go above and beyond by not just hauling away your unpleasant rubbish, but cleaning up the empty space they leave behind, and doing it all with a smile.
It may sound too good to be true, but if you think about it, they do have to provide excellent service, or they'll end up losing your business to a competitor. They also know that if they impress you, you'll probably call them again the next time you have junk you want gone, which is probably a safe bet that you will one day.
Also, this is a franchise system, so you're not dealing with some giant national entity that is paying some poor sap an hourly rate to haul junk all day, and profiting off their manual labor. These are individually owned by local entrepreneurs and they've got that spirit, that drive to do a good job because they're sharing in the profits and creating a business for themselves.
Final 1-800-Got-Junk Review
1-800-Got-Junk works as described. When it comes to trash removal, you only have so many options. You can opt to do it yourself, hire some freelance trash person, stick it out in your front yard and hope someone takes it, or hire a professional junk removal company to do it for you. When you go with the Got Junk guys it's like doing it yourself, only not. You know they'll be responsible with it, and recycle or donate what they can, not just take it directly to a trash heap, or in a no-dumping area.
Our Recommendation
It might sound funny to hire a professional to have your junk removed, but really it's the best way. You could hurt yourself trying to move it yourself, either because it's heavy, or sharp, or both. The part we like best is that you can get a no-obligation quote from them, and then make your decision from there. Our recommendation is to get together all of the junk you want removed, and have them take it all away in one go, that way you don't have to pay the minimum fee and you get the most value for your money.
What do you think? Does 1-800-Got-Junk work or not?