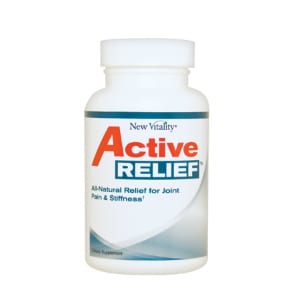 Active Relief is a duo of cream and supplement that are supposed to work in tandem to relieve you of joint and muscle pain. They make a pretty strong case to give it a try, basically doing everything they can to get it into your hands, feeling pretty confident that you'll decide to keep it and order more if you just try it out. So we looked to see if there were any catches with the offer, and what kind of method they're using for pain relief.
Overview
Joint pain and stiffness can put a real damper on your quality of life, and is something that affects millions of Americans, and plenty more each year. There are gels and creams and pads and all sorts of other methods of pain relief to try, as none of us want to rely on painkillers and aspirin to get us through the day. All natural remedies are often presented as a way to fix a problem without side effects, or the high cost of prescription medication.
The Claim
The makers of Active Relief claim that it will relieve you of occasional pain and stiffness as well as inflammation in your joints. You should be more flexible and feel more comfortable than you currently do, and it can even be used to treat aches and pains that you feel on a daily bases. They also say that their supplement works to promote healthy joints, so you'll have a greater range of motion, and could potentially be more active again.
The Hype
With none other than Hulk Hogan as the endorser they're trying to build up some hype for this product. He says that he's very familiar with pain, and that this is the only thing that has given him relief. Of course we're all familiar with celebrity endorsements, and it's never clear if they actually use the products they endorse, or if it's just another paycheck for them.
The Cost
They'll send you the cream and the supplement for free, but you have to provide your credit card information and they'll send you your next month's supply for $30 plus $8 shipping. They say that no matter what happens you're covered by a 30 day guarantee, so even if you tried it, didn't like it, forgot to cancel, received your latest shipment, and still didn't like it you'd be able to send it back and get a refund.
The Commitment
They give you a full 30 day supply, so it makes sense to give it a full evaluation. However, you should be able to tell right away if it's doing the trick or not. Pain is one of those things that is easy to evaluate, so it's not as if the results are going to be ambiguous. If you're still in pain after using it then you would just stop using it. They also advocate a 7 day challenge whereby you use it for a week and see how you feel. They're confident that this will provide enough evidence of its effectiveness and you'll be hooked.
Evaluation
The active ingredient here is glucosamine, and plenty of research and testing has been done but the results remain inconclusive. Some users swear by it, while others try it and don't seem to have the results they were looking for. The overall consensus is that it's safe to use according to recommended guidelines, so it has the benefit of being able to be used on a consistent basis without worrying about overloading the body with toxic chemicals. There's just no real guarantee that a product with glucosamine as the main ingredient will be effective.
Here's a similar product:

We like that it's taking both an outside-in and inside-out approach to pain relief, so you're getting the best of both worlds. By taking the supplement you're getting the Glucosamine throughout your body so that it can help fight inflammation, and with the cream you're applying a topical solution right to where the pain is, providing more immediate relief. It should provide the one-two punch that's needed to treat pain holistically, rather than just one way or the other.
Final Active Relief Review
The way they've got this set up is earning Active Relief a Solid Try rating, as there's very little to lose, and potentially a lot to gain from its use. They've mentioned a 7 day challenge, which is something that most people can stick with, so it doesn't hurt to try it out – no pun intended. We've seen a lot of trial offers, but very few of them allow you to try a product with no out of pocket expense. Your order total is zero with this, and they give you a full month, not 14 days like most other trial offers that also require you to pay shipping, and then charge you for the trial later if you don't cancel.
Our Recommendation
If you've been suffering from joint pain and the soreness that comes with it and it's been effecting your lifestyle, and if you've tried other products without much success, you just have to keep trying until you find one that works and that you can use for the long term. Most likely the pain isn't going to go away on its own, so doing nothing isn't the answer. The way they've got the free trial and money back guarantee arranged makes it so that the most you'd be out is $8 after two months of trying it out, and not liking the results.
What do you think? Does Active Relief work or not?