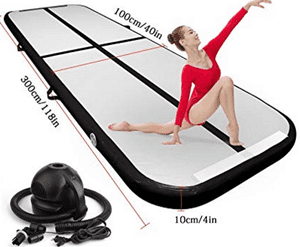 There is a lot of up and coming gymnastic athletes that need the proper equipment to practice with. One of the items that can be of great value to them is the Air Track Tumbling Mat.
Overview
The Air Track Tumbling Mat as the name implies is a mat that is inflatable and acts as a resource for those who want and need to practice gymnastic manoeuvres such as tumbling, safely.
The Claim
The promoters of the Air Track Tumbling Mat that comes in several length choices such a 9.84 ft, 13.12 ft, 16.4 ft and 19.68. Ft. It comes with the pump to inflate it and its own carrying bag. The promoters claim it can be used in various places. Such as in a gym setting or at home. It can even be used outdoors if the proper caution is taken that it is not placed on anything sharp that could puncture it.
The Hype
The hype about the Air Track Tumbling Mat is that it can be used as an extra training resource at home or in any setting. It means the young gymnast doesn't have to rely on an outside source such as a training center or gym to practice their moves outside of their formal training regime.
The Cost
The cost of the Air Track Tumbling Mat is $179.99.
The Commitment
There is not much of a commitment for the Air Track Tumbling Mat. Users can create a designated space for this to be left set up. Or it can be deflated after each use if necessary. It is quick and easy to get it ready for use, so either option is appropriate.
Evaluation
It comes naturally for young gymnasts to want to constantly practice their tumbling and other moves. Parents often become concerned about them doing this on unsafe surfaces. With the Air Track Tumbling Mat, the young athletes can practice safely to their heart's content. Even for the little ones who love to do their flips, they need a safe place, and this would be ideal.
Final Air Track Tumbling Mat Review
There has been some feedback about the Air Track Tumbling Mat. Out of 32 customer reviews it has received a 4.3-star rating. With 81% of these giving it a five star. Some of the positive comments are the quality that it is comprised of. Some of the concerns were that it would shift during use, but a lot report that this doesn't seem to be a problem. Overall we are prepared to give the Air Track Tumbling Mat a thumbs up. Although it may seem expensive, it seems to be well worth the money, if it is going to get proper use.
Our Recommendation
For those that are looking for other types of gym equipment we have written plenty of reviews and commentaries on this subject, so be sure to check them out.
What do you think? Does the Air Track Tumbling Mat work or not?