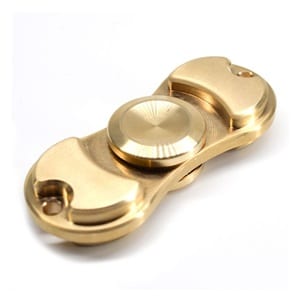 As parents we all know that our kids tend to fidget at times. When they do this we often try to give them something that will occupy them. This concept as become so popular that now there are fidget spinner devices that are used to help kids with anxiety. One that has become quite popular in this group is the Amilife EDC Fidget Spinner.
Overview
The Amilife EDC Fidget Spinner is a small hand held device that lets the kids flick and spin in.
The Claim
The promoters of Amilife EDC Fidget Spinner class this as a anxiety relief toy. It doesn't just serve the kids either as many adults find it to be beneficial.
The Hype
The hype for the Amilife EDC Fidget Spinner really focuses around anxiety toys becoming a new trend to the general public. They are something that have been used by professionals dealing with patients with anxiety for quite some time.
The Cost
The price for the Amilife EDC Fidget Spinner can range between $1.49 to $25.99. It all depends on the size and the ball bearings in the unit you are choosing.
The Commitment
The commitment will differ depending on the purpose you are buying the Amilife EDC Fidget Spinner for. For children that are suffering with various anxiety disorders, which can include ADHD or Autism they may very well adapt to the unit quite easily as they find it intriguing right from the start. If you are purchasing the Amilife EDC Fidget Spinner for kids who just want one because their friends have one, then the novelty may wear off quickly.
Evaluation
When looking at the value of the Amilife EDC Fidget Spinner or any spinner for that matter it really comes down to whether it has true benefit or is it just a fad. They have become so popular that many of the schools have banned their use in the classrooms. This is because some of them can be quite noisy. Another reason is that some teachers feel that they are distracting for the student using it and those around them.
Final Amilife EDC Fidget Spinner Review
We are going to give the Amilife EDC Fidget Spinner a Try/Buy rating. It is just one of many on the market so it really comes down to a matter of personal preference. If it is being purchased for a child who really does have a anxiety disorder then the quality of the Amilife EDC Fidget Spinner would probably allow it to stand up to the constant use it may be put through. Many adults use this type of device when they are trying to break a habit like smoking for example. In this case again one may want to go for this particular one because of its strength and quality.
Our Recommendation
You really need to decide whether your young one has a need for the Amilife EDC Fidget Spinner. If your young one is under professional care for anxiety, you may want to ask their health care professional whether this would be a good resource for your child. If you are buying one for the youngster who just wants one because others have it, then you may want to shop around for a less expensive type. While we haven't really reviewed much for kids that deal with anxiety we have reviewed different resources for adults who deal with anxiety and panic attacks for example. For those who are interested in hearing more about what is available for this check out the Linden Method.
What do you think? Does the Amilife EDC Fidget Spinner work or not?
[kkstarratings_custom_footer]