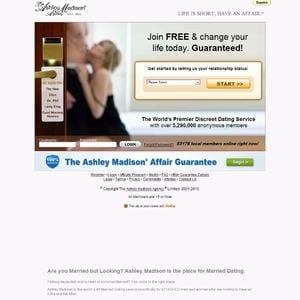 Ashley Madison says that you should have an affair because life is short. It's a dating website of sorts, but is particularly geared towards married people, or those in a committed relationship. They say it's the most popular service for discreet meetups, so we took it for a spin to see what it's really like from the inside.
Overview
There's definitely a market for people that are unhappy or unsatisfied in their relationship, either married couples or those that aren't married but are still in monogamous relationships. It's human nature to not want to rock the boat, to keep the status quo, and also to stay in a situation that is good on all fronts but the sexual one. It's not always cut and dry as far as just breaking up or getting a divorce if you want to fool around or see someone new. And that's the niche that they're trying to satisfy here.
The Claim
Ashley Madison claims that users of their site are 100% like-minded, and that your anonymity will be protected by their site security and by them keeping your registration details private.
The Hype
They're running a television and online advertising campaign to build interest. Once you're signed up and fill out your profile they'll also send you updates when new members join that fit what you're looking for, or when you get messages from other users. Of course a site like this is going to get is share of attention because it's putting the elephant that's usually in the corner right in the center of attention. By bringing affairs and cheating into the mainstream, and forming a business around it, there's going to be a lot of people that both like it and hate it.
The Cost
It's free to sign up, but that doesn't get too far. You can receive messages, but if you want to send them you're going to have to pull out the credit card to buy some credits. Each action you take will deplete your credits, and each one has its own cost depending on how far along it will move you down the relationship. Some users get upset when they spend their credits and don't get a response in return, but you have to play the numbers game and not fixate on any one person no matter how "perfect" their profile might make them seem.
The cost of credits varies by how many you purchase at once. The basic package is 100 credits for $49.
The Way It Works
You can use the service as much or as little as you like, but with the credit system in place you are never obligated to stay on any longer than you want to. This action-based model makes it so that you don't feel stuck in a monthly membership, but also adds more meaning and importance to the contacts being made, which reduces the number of people that are trying to scam others or misrepresent themselves. In our estimation this is a better way to set things up than using a monthly payment and then allowing an unlimited number of contacts to be made.
Evaluation
If your intentions are clear then it's always good to flock with birds of a feather. If you just want a side fling then you don't want to be using a dating site like eHarmony where people are looking for a long-term relationship. At the same time you are not sure what the intentions of others are, so there's no guarantee that you're going to get what you want from this, but it does increase your likelihood of finding someone that wants a noncommittal, no strings attached kind of set up.
Some have expressed that they didn't really like their Ashley Madison experience, but the same can be said for all of the dating sites out there. It's a microcosm of life and the real world dating scene, it is what you make it, and you have to keep your expectations reasonable. If you think that it's going to be akin to something like Adult Friend Finder you're probably going to be disappointed. In fact many users have said that they were able to find long-term discrete relationships on the side without jeopardizing their primary relationship.
Final Ashley Madison Review
After trying out Ashley Madison for a few months, we're giving it the Thumbs Up based on our experience, and also from additional reviews and feedback from users that have said it worked. When dealing with human relationships nothing is for sure, so a website can only provide the playground and in this instance they've done their best to attract the right mix of people. Of course there will still be the bad apples with nefarious intentions, but you'll have to use your best judgement and pre-qualify as much as you can before inviting them into your life, no matter how short term.
Our Recommendation
There's no harm in trying it out, and since you remain in control of what people see, and what messages you respond to, it's a way to dip your toe in the water to see how it feels. The majority of sites out there are for people that aren't in a relationship and want to be in one. The rest are for people that just want to have a one night stand or the equivalent. This site feels like it's somewhere in the middle, with people willing to have repeat encounters if they are having a good time.
What do you think? Does Ashley Madison work or not?