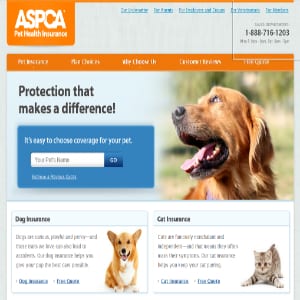 ASPCA Pet Insurance is one of the top providers in the country for insuring your dog or cat. Of course you're probably familiar with the name, and they are hoping some of that reputation trickles over to this other venture, and persuades you to choose them over the competition. But how well do they compare on a head to head test, and are they the best coverage for your money?
Overview
This is the same ASPCA that you might know as the The American Society for the Prevention of Cruelty to Animals that has been around for years. But it's important to note that you are not actually buying your insurance plans from them. They are just licensing their name in return for a fee. The actual insuring is done through the Hartville Group, which definitely doesn't have the same brand recognition, so this seems to be a good strategic partnership.
The Claim
ASPCA Pet Insurance claims that you can use any vet you want to, as long as they're licensed to practice veterinary medicine. This includes both specialists, as well as emergency hospitals and clinics. If you have more than one pet you can get a 10% discount, and that they have a money back guarantee good for a full thirty days if you don't have any claims that are covered.
They say that their plans will reimburse you for 90% of typical vet bills, and all that they have is a $100 annual deductible. Most plans function like this, using reimbursements rather than having the vets direct bill.
The Concept of Pet Insurance
People have had pets for a long time, but only in the modern era have we thought to insure them. But it only makes sense, because they're usually a central figure in our lives. Pets are designed to tug at your heartstrings, and they teach us a lot about life and how to live it. Either fun-loving and tail wagging like a dog, or calm and collected like a cat. That's why it can be hard to watch them suffer, and even harder to think that one day you might have to make a major health decision for them based on financial matters. That's when the importance of pet insurance really stands out.
The Cost
ASPCA Pet Insurance gives you a lot of control over how much it costs. Of course, the more it costs the more it covers, all else being equal. That's why it's important to take the time necessary to get an accurate quote based on your breed of dog or cat, their age, and what sort of coverage you want.
The Commitment
You're never locked into any plan, so you can simply cancel at any time, and your coverage will stop. This makes it easy to try out the different plans and providers, but it can become a hassle jumping from place to place and keeping your pet covered through the transition. That's why it's best to do as much research as possible, and to generate a list of features you consider important, before getting lost in all the promises, facts, and figures tossed around by these companies.
Evaluation
ASPCA Pet Insurance has gotten pretty lousy reviews from people that have tried it. However, it's hard to imagine someone jumping online to say how happy they are with an insurance provider. If something works the way you expect it to, you generally keep that info to yourself. It's only when you feel like you've been taken advantage of, or when you feel you're not receiving value for your money that you want to voice it to the world. But there are enough similar statements out there that makes one wonder if they should be avoided. It's important to also consider that many people sign up for insurance not really knowing what they're getting, and have false expectations of what they think will happen when they file a claim.
Naming Rights
It's important to note that the ASPCA could have gone with any number of pet insurance companies, and they chose the Hartford Group as being most in line with their values and principles. Sure, there is a lot of money involved as well, but you'd think it would be unlikely that they would put their name on something that they felt would deteriorate their long-established reputation.
Final ASPCA Pet Insurance Review
ASPCA Pet Insurance has enough negative reviews that it might not be the best choice for your pet. Although the name is synonymous with rescuing pets and giving them care when they need it, the actual insurance aspect is done by a different company altogether. It seems that they've attempted to buy some credibility here, and it may end up backfiring on both of them if improvements aren't made in the near future.
Our Recommendation
Even though all of the pet insurance companies like to think that they're different from one another, they are essentially selling the same service, with little differences here and there. We recommend sizing each of them up individually, and looking at what they cover and what they don't – in detail – before choosing a provider. It may sound like a lot of work, but it will be hard on the front end and easy on the back end, meaning that the extra effort you put in now will make things go a lot more smoothly later when you need to file a claim.
What do you think? Does ASPCA Pet Insurance work or not?
[kkstarratings_custom_footer]