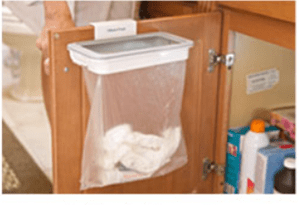 We all like convenience especially when it comes to working in the kitchen. One of the pet peeves that many cooks have is having to deal with the trash that is created during food preparation. Attach A Trash just may be a resource that helps to deal with this issue.
Overview
Attach A Trash is simply a clip on portable trash can that is not only great for the kitchen but any room where you may have a need for it.
The Claim
The promoters of Attach A Trash claim that it easily clips onto any drawer and cabinet. It has a ten pound trash capacity.You can easily line in with grocery bags, and you don't need any screws or attachments to hold it into place.
The Hype
The real hype comes with being able to have Attach A Trash close by you when you are preparing meals. Instead of having to gather up all of the peelings etc. and scoop them into a trash can under the sink, you can easily slide them into the Attach a Trash which you have clipped onto a drawer near by. You can easily peel your fruits and veggies so the peels fall directly into the unit without having to bend over, which can get hard on the back.
The Cost
The cost of the Attach A Trash is $10. with a shipping cost of $8.99. If you want an extra unit you only need to pay for the shipping.
The Commitment
There really isn't much of a commitment other than clipping the Attach A Trash onto the drawer or cabinet then lining it. Once you are done just remove the bag with the trash and dispose of it. The Attach A Trash is dishwasher safe too, so cleaning it really isn't a problem.
Evaluation
We wondered just how much a product like Attach A Trash would really be in demand. We did find one that is similar to it on Amazon called Trash Ease which has gotten some favorable feedback. So that does indicate that there is a need for a product like the Attach A Trash.
Final Attach A Trash Review
Overall we are prepared to give the Attach A Trash a thumbs up. The price itself seems reasonable although the shipping costs boosts the overall cost of the product up. What we like most about it is the convenience of it. Anyone that works in the kitchen knows its a real hassle having to deal with the trash that food preparation makes. Having to handle the regular garbage can while cooking makes it difficult to keep things sanitary.
Our Recommendation
There are other uses for the Attach A Trash outside of the kitchen. In any cabinet where you want to have a trash can this unit is really easy to use. Especially since you don't have to attach it with screws or adhesives. It can be considered as a god alternative to some of the other styles of touchless trash cans which are usually more expensive and take up more room.
What do you think? Does Attach A Trash work or not?