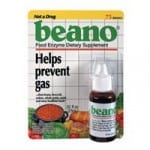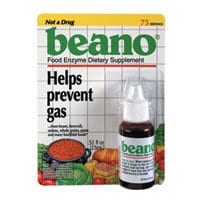 Dietary supplements are big news at the minute and Beano is one of the brands that's on the rise and that people are beginning to use. We will investigate this product in detail and work out if it is any good or whether the hype is over-rated. There are of course many other forms of dietary supplement in the market so there is a wide range of choice.
Overview
Beano is purchased in the form of tablets in a bottle and claims to offer various benefits to the consumer with regards to aiding the digestive system. It is designed to be sold to those people that have regular internal problems such as excess gas or bloating when eating food. The product first hit the shelves in 1990 but has been revised several times and evolved with modern medicine to better treat the user.
The Claim
Beano claims that their product can "prevent gas before it starts" which is a huge plus to those people that are unfortunately prone to getting that horrible bloated feeling when they eat gassy food such as broccoli, cabbage and peas etc. Beano also claim that their product is unique as it contains natural enzymes which are used to break down and digest the complex molecules that carbohydrates are made of.
The Hype
Many fruits and vegetables are full of gas and can leave the consumer with an irritating gassy stomach after eating. This is a big downside to eating healthy and can cause some people to turn away from such good nutrition in favour of fried or processed foods that leave the stomach less bloated but much worse for overall health. The beauty of Beano is that is promotes healthy eating and will encourage those with delicate digestive systems to continue or return to a healthy diet.
The hype comes from the statement that there will be no gas. This is quite misleading as you'll likely still experience some gas, just not at the level that you would have had you not taken the product.
The Cost
The recommended retail price for a bottle of 50 capsules is $29.99. The prescribed consumption is 2 tablets before a gassy meal and assuming that you have 1 big meal a day, a bottle should last 25 days. Therefore it will cost just over $30 a month for full usage. This is a rather hefty price tag to be gas free.
The Commitment
This product requires little commitment as it simply needs the user to take a pill prior to consuming any foods that are likely to cause problems internally. Grains, vegetables and bean food products are the most likely contributors to internal gas and bloated bellies and so the user will simply need to identify when this type of food is being consumed and take a supplement. It can be tricky to start a regimen of taking pills daily, but once established can become a habit requiring little thought.
Evaluation
Beano is available in a tablet form that is intended to be swallowed as well as a melt away version which does as it says and melts in the mouth and is then digested by the stomach. This product is a particular plus to those people that struggle to swallow pills.
The product will not make you lose any weight but will allow you to resume a balanced healthy diet by preventing the build-up of nasty gasses. Doctors have often recommended Beano as a non-prescriptive means for curing this symptom. Beano can also be used by people that are as young as 12 and in some case can also be given to children that are even younger after seeking medical advice.
Does Beano Really Work?
Beano has generally received highly positive reviews from those people that have bought the product and added it into their diet. Many people say that they have tried several alternatives but none have been effective in preventing the build-up of gas and leaving people bloated all day long through simply trying to eat the right kinds of food.
Our Recommendation
Beano is highly reccomended as a problem for sorting out digestive bloatedness. It is worth buying even if the initial purchase is for a small batch and tried for a month before commiting to it as a long-term solution for a gassy belly. It is definitely worth a shot as so many positive reviews and with doctors highly recommending Beano, it must be a great product.
What Do You Think? Does Beano Really Work?