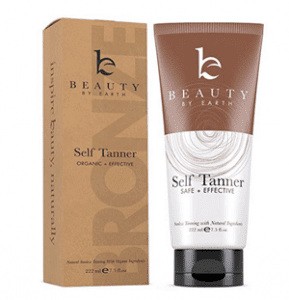 In today's times, people are more health and safety conscious about the effects of the sun's dangerous UV rays and exposure. Many are turning to the use of self-tanning products like Beauty By Earth Self Tanner.
Overview
Beauty By Earth Self Tanner is a great sunless self-tanning product containing natural and organic ingredients used to transform your skin and give it that sun-kissed look.
The Claim
There are many positive claims about Beauty By Earth Self Tanner. Eliminating exposure to harmful sun UV rays, protecting your skin from sun damage, as well as the use of a product containing harmful chemicals. This product has never been tested on animals and is cruelty-free and made of all natural ingredients.
The Hype
The hype about Beauty By Earth Self Tanner is that it is a self-tanning lotion that gradually gives the skin a beautiful glow, without creating dark spots or blemishes exposure to the sun can create. Application of this product does not leave This self-tanning lotion is 100% vegan and does not leave streaks or an orange-colored skin when applied.
The Cost
The cost of Beauty By Earth Self Tanner is $28.49 for the 7.5-ounce size and $54.99 for the 15-ounce size. This product is sold by many sellers.
The Commitment
The Commitment with Beauty By Earth as with any product you would apply to your skin is to do a patch test before applying the product over your entire body to ensure you are not allergic to the product. To reach the optimum appearance you are looking for, applying this product gradually over a few days is required. Following a skin care regimen is also a good idea.
Evaluation
The Beauty By Earth Self Tanner product is impressive as it is chemical free and easy to use. Use of this product eliminates the risks to harmful sun exposure can create like early aging, skin cancer, and wrinkled leather looking skin. Some of the ingredients are Japanese green tea, organic shea butter and coconut oil, which will keep your skin looking fresh and well taken care of.
Final Beauty by Earth Self Tanner Review
Beauty By Earth Self Tanner deserves a thumbs up. Ratings from customers who have purchased and used this product are very high. 73% of users have given this amazing product a full 5-star rating. One customer review states that it is the best self-tanner she has ever used and rates the least toxic on the EWG website. She also stated the bronze color it produces is very natural looking and has a nice coconut and vanilla scent to it. The self-tanner does not stain clothing or sheets as it goes on white. The product is dense and easy to see where the product is going on and is moisturizing. According to customer ratings and reviews, we would strongly recommend this product. It is nontoxic and paraben free and can do wonders for the skin.
Our Recommendation
As an alternative, you may want to check out Tan Secret.
What do you think? Does the Beauty by Earth Self Tanner work or not?