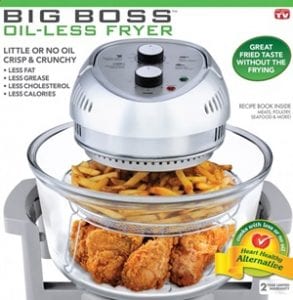 If you still haven't found a cooking appliance that allows you to cook fat free that you really like, then you may want to take a look at the Big Boss 1300 Watt Oil Less Fryer. It has a lot of good features about it and may well be worth the investment.
Overview
The Big Boss 1300 Watt Oil Less Fryer is a convenient and quick way to cook much healthier "fried" type foods as it uses virtually no cooking oil.
The Claim
The claim is that by using the different methods of cooking, namely convection, halogen and infrared you get the same results as frying the food in a deep fat fryer without the calories associated with using one.
The Hype
The hype surrounding the Big Boss 1300 Watt Oil Less Fryer is that it cooks much quicker than a traditional oven and much healthier than a deep fat fryer due to the methods of cooking outlined above.
The Cost
The cost of the Big Boss 1300 Watt Oil Less Fryer is a reasonable $94.49 at Amazon. This represents a considerable saving when compared to the same unit at the big box stores.
The Commitment
The commitment required for the Big Boss 1300 Watt Oil Less Fryer when cooking is pretty minimal. You simply need to put the food in and let the unit do its job. Based on tests done however, you will need to flip the food to get the texture and appearance of traditionally fried foods. So it is not quite the "set it and forget" type apparatus as the claim makes it out to be. The storage of the unit requires a considerable amount of space as it is fairly large and bulky.
Evaluation
Reviews on the Big Boss 1300 Watt Oil Less Fryer indicate that it pretty much did what it said it would do with some variations. It is certainly not a deep fryer in any way shape or form and does not perform as well for certain types of traditionally fried foods like French Fries. Yes, they cook and are somewhat crispy but not deep fryer crispy. Having said that, for other foods such as chicken wings and whole chicken pieces it absolutely works spectacularly. You do get that fried flavour with a mere fraction of the cooking oil required in a traditional recipe. It also works great as a convection oven for foods that you would normally cook in an oven. It decreases the time required for these type foods by a considerable amount and the meat comes out juicy and flavorful every time. It is, as advertised. Very, very easy to clean after use and is quite versatile in what it can cook. If you are looking to make great tasting and healthy meals in a fraction of the normal time you cannot go wrong. If you are looking to make a lot of French Fries then buy a deep fryer.
Final Big Boss 1300 Watt Oil Less Fryer Review
We love the healthier foods that can be produced in the Big Boss Oil Less Fryer and the fact you can cook them in a mere fraction of the regular time is amazing. For this reason, we are giving it a thumbs up rating.The methods of cooking, convection, halogen and infrared are simply fantastic for certain types of foods. There are some cheap components to the unit, namely the timer and it is not great for really crispy fries, but if you can get around those minor issues then this unit is for you.
Our Recommendation
If you are really into some unique cooking systems then be sure to check out the Ninja Cooking System.
What do you think? Does Big Boss 1300 Watt Oil Less Fryer work or not?