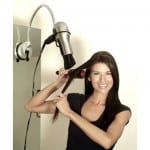 Blo and Go is a hair care accessory that's being well-advertised on TV. If you are an avid user of a blow dryer, then you are surely aware of the difficulties of blow drying your hair. The whole method is not only time consuming and troublesome, but the procedure itself can be tiring and irritating as well.
Overview
Blo and Go is a patented portable hair dryer holder. Well-known runway model Laurie Coleman developed this system in order to make the task of styling hair easier and more convenient. Needless to say, this product was created through Laurie Coleman's personal experience in hair styling, as she is well aware of the meticulous methods involved in this task.
The Claim
Blo and Go claims to provide a convenient means for styling the hair using a hair dryer. This portable device can attach to any flat surface because it uses a suction system that firmly locks into place. You can then set your hair dryer up in this system, and you can use both hands freely when drying up and styling your hair. This method will result in having professional-looking results, as it will seem like you have an extra hand to help you with the styling procedure.
The Hype
Hairstyling accessories like the Blo and Go are not very common, and that's what makes it really interesting. And if you see the advertisements on TV showing how this device can make your life easier, you just can't help but take a look at the product more closely.
Styling hair can be quite troublesome, as you need to do this everyday. So when a product comes along that promises to make styling hair more convenient, it can be too hard to pass up. This system can prove to be beneficial for all types of hair, whether short, long, straight, or curly.
The Cost
The whole system of Blo and Go can be purchased for about $20 to $40, as the price will depend on where you purchase the item. There are also vendors that are charging fees for shipping and handling and there are also those that include delivery charges in the price of the item.
The whole package will include the hair dryer holder, a styling brush, and an instructional guide on how to use the unit effectively.
The Commitment
In order to make use of this device efficiently, you need to find a smooth and flat surface to attach it to. Setting it up on the surface of a clean mirror is the most effective method, as the suction mechanism can firmly attach to this type of surface and hold your hair dryer securely. For best results, you can put this system up when its time to blow dry your hair, and then remove it afterwards.
Evaluation
This product is good and it delivers on its promise too. Because it can hold your blow dryer for you, you have 2 free hands to style and manage your hair while styling. You will no longer struggle with the blow dryer in one hand and a hair brush in the other, as this unit takes charge of holding your hair dryer for you.
There is just one problem with using this device, and that involves its inability to remain attached to the wall. In fact, it has been found to be ineffective in attaching to walls and other flat surfaces. It can only firmly attach to mirrors, and even then, there are still reports of the unit disengaging from this type of surface.
Final Blo and Go Review
Blo and Go really works and it will provide you with hands-free operation when blow drying your hair. It also holds well to mirror and glass-like surfaces, so you can effectively use this device while styling your hair in front of the mirror.
As a safety precaution, however, you should avoid putting things under the mechanism, as there could be instances when the device might fall off the wall, especially if you are using a heavy type of hair dryer.
Our Recommendation
We highly recommend the Blo and Go portable hair dryer holder especially for home use. It makes hair styling easier and faster, and the results are more professional-looking as well. We only advise that you clean the surface of the mirror where you are going to attach the unit, so as to allow the device to attach more securely. You should also take the structure down after use in order to avoid accidents.
What do you think? Does Blo and Go work or not?