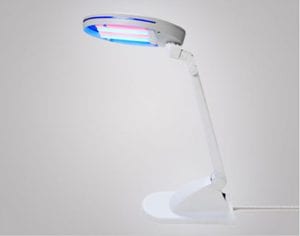 This product is a light therapy treatment promoted as helping to cure acne by destroying the bacteria that causes this type of condition. How effective is it really?
Overview
BlueMD is supposed to be used 20 minutes a day 3 times a week. It can be used on even the most stubborn types of acne and results should be noticeable after 3 weeks of use, but will differ with each user. It is recommended that women who are pregnant should not use the system, or those that are on some medications. It is being called a safe light therapy that has been FDA approved. This product is being recommended as an alternative to having to use expensive acne treatment creams and lotions, or having to resort to antibiotics as an acne treatment.
The Claim
The Company claims that the product is easy to use and that results should begin to show within 3 weeks but this varies with each individual. They claim the light itself is a dermatologist grade product. It further states that it replaces the need for many other forms of acne treatments because the rays emitted from the BlueMD is capable of killing the acne causing bacteria.
The Hype
The promoters are able to capitalize on the general hype that comes with any type of acne treatment that has the potential for being effective. To add to this the company is focusing on eliminating the need for having to spend time and money on others acne products like creams, pills and even antibiotics.
The Cost
The cost for this acne treatment system is $199. which includes free shipping. There is a 30 day money back guarantee along with a limited one year warranty. Included with the therapy lamp is a pair of protective goggles. We have reviewed a similar concept acne treatment called Luma Clear, which is priced much lower. However, this particular product is more for treating spot acne, meaning for when the occasional pimple breaks out. It is much more compact and not effective for treating acne at hard to get at places such as the back for example, or for larger breakouts.
The Commitment
You are going to have to dedicate yourself to putting aside the 20 minutes 3 times a week as suggested for this treatment to be effective. You will also have to be sure to wear the protective goggles to shield your eyes from the light that is emitted from the lamp.
Evaluation
Many health care professionals feel there is some merit to using light therapy for the treatment of acne. In the past treatments that utilized xray or ultraviolet rays were used but have since been deemed unsafe. The lights used in the BlueMD is blue light such as what is sometimes used in doctor's offices for a similar acne treatment. Based on this it would seem that there are solid grounds for believing that this particular system would have the components necessary to help with acne.
Final BlueMD Review
Overall this product deserves a thumbs up rating. Even if it does not totally eradicate all of the acne for everyone even producing some improvement is a big plus for those that suffer from this. From a cost point of view the cost of this product is substantial, but when you compare it to the cost that many acne sufferers pay for tons of products that never work then it makes this treatment far more economical. Comparing it to a similar product such as those that promote treatment but are selling the lightbulb for acne treatment only, it makes the BlueMD much easier and safer to use.
Our Recommendation
After doing a thorough review of this product and checking our the feed backs concerning it,we have come to the conclusion that it really could be a great alternative to many of the other types of acne treatments. It has to be remembered that although acne is a common problem that many people suffer from, it is also an individual problem to each acne sufferer because their body is unique and therefore every person will respond differently to the various acne treatments available.
Official Website: BlueMD
What do you think? Does BlueMD work or not?
[kkstarratings_custom_footer]