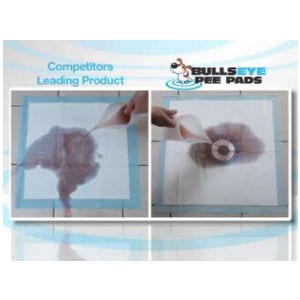 Bullseye Pee Pads are designed in a way that makes it so your dog will pee in the center of it, so you don't have those near misses that end up needing further clean up. But do these specialized pads actually work, or will you still have a big mess to clean?
Overview
Using pee pads is a way to help your dog stay potty trained by giving them an authorized place to relieve themselves indoors. This makes them great for those that aren't home for most of the day, or times when conditions outside aren't ideal for a walk, like when it's snowing or raining. But when your dog doesn't use the best aim, or doesn't position themselves in just the right spot, pee pads can become pretty pointless. There are also some low quality pads that are not very absorbent, and don't capture all of the urine, causing additional clean up efforts.
The Claim
The Bullseye Pee Pads say that they fix all of these problems inherent with ordinary pee pads. they say their pads contain a pheromone that will get your dog to understand that the center of the pad is the best place to go. This makes it so the pee goes right in the center of the pad, giving it more surface area to soak it all up. They also say that it is made out of a very absorbetnt material, so you won't end up having to clean up after it, it will trap it all for easy clean up.
The Hype
The infomercial for this clearly depicts all of the problems there are with some pee pads sold on the market. They also show these Bullseye alternatives performing perfectly, with trained dogs going right to the center of the pad and doing their business. In the real world you can't expect every dog to act this way and to use these pads exactly as depicted. But at the same time if they make a greater effort of going in the center it's going to made a big difference into how hard it is to clean this up.
The Cost
It's $25 for a 60 Bullseye Pee Pads plus a Crazy Critter. They include a $15 credit towards another purchase, and it is unclear whether or not you can use this credit for your next purchase of pee pads, as these are disposable and if they work as shown you'll be back to buy more. If you used one per day that would break down to being a two month supply. If you use it less often than that you'll be able to stretch it out. The per pad price comes to about 42 cents, so it's not bad since it's delivered to your door.
The Commitment
This should reduce the amount of pee you have to clean up both because your dog misses the pad and also because the pad does a poor job of soaking it all up. If you don't have to come home to a big mess that can be a big improvement in your lifestyle, and your relationship with your dog.
Evaluation
The Bullseye Pee Pads are supposed to use pheromones to attract your dog to the center of the pad. It's also supposed to be super absorbent, and when activated it releases a fresh scent. Because of these three features they are far superior than standard pee pads. If you are trying to train a dog to go outside or to use indoor pads like these, this is your best bet. They also show how you can use these pads to instruct your dog where to go outside so they're not peeing all over your lawn and making the grass die.
Final Bullseye Pee Pads Review
Bullseye Pee Pads are getting our Solid Try rating, and here's why: At less than 50 cents per pad they are at the right price point. Also, if they don't work exactly as they appear to in the promo video, you're still going to end up with a pad that works as good as the pee pads you currently use. This means that you are protected no matter what, sort of the way an escalator can never break, it just becomes stairs. If it turns out that these work the way they should you now have a solution to your pee pad problem and it didn't cost a fortune to have them delivered to your door.
Our Recommendation
Since they're throwing in a Crazy Critter for this price it's a recommended purchase. Our tester found that her dogs loved the Crazy Critter and it's made without stuffing so it can take some abuse. It's actually a bonus that you won't mind getting. So at the end of the day you'll end up with 60 pee pads and a dog toy for $25 sent to your door. Not a bad haul.
What do you think? Does Bullseye Pee Pads work or not?