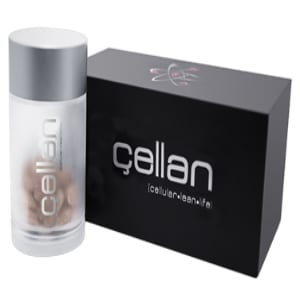 Cellan or Cellean as they're sometimes called, is an all-natural herbal supplement that is designed to help you with your weight loss goals. There are a ton of different pills out there, all vying for your attention. It's hard to know which one to go with, or if you should go with any of them. We sized these pills up and are here with our verdict on whether to try them.
Overview
When you go with a diet pill, it's always best to go with something that is naturally based, instead of some synthetic new invention created in a lab. In some instances you can find a pill that will be made with ingredients that have been around for a long time. That's the case with Cellan, with each of their ingredients having a track record of success. But how well do they all interact together?
The Claim
Cellan claims that it can help you battle the negative effects of a modern lifestyle They say that due to all of the stress we have to deal with, the aging process and unhealthy living are causing us to gain weight more than ever before. They say that their product gives you metabolism a jump start, while giving you more energy so that you feel like exercising more. They also say that you can lower your cholesterol with it, keep your blood sugar levels balanced, and get a boost of antioxidants.
They also say that their product contains fiver in it to help flush out toxins from the body, and make your digestive system fire on all cylinders again. They say that there are a lot of toxins in the food that we eat, and your body needs a way to get rid of them. They say that by taking their pills you'll be able to help lessen the amount of bloating you experience, as well as many headaches, and that overall feeling of malaise you can't seem to shake.
The Hype
The hype is that this falls under the category of diet pill, and all diet pills are hyped up because people think they can just take it and all of their weight problems will go away with no other involvement on their part.
The Cost
Cellan is set up on a trial and then charge system. You pay $8 for shipping and you get two weeks to try it out. If you like it they charge you $90 for the first bottle you received, and then send you another bottle every 30 days and charge you again as well.
The Commitment
With these pills you just take them every day and they should start to show results. As far as the long term goes, that will be entirely up to you. We don't recommend thinking of weight loss pills as a long term solution, but rather as a way to help you get where you want to go faster. You need to have a valid exit strategy so that you know how you're going to get off of the diet pills. That's why in conjunction with starting to take a weight loss pill we recommend starting to exercise more and eat better. That way when you wean yourself off of the pills you will have the lifestyle in place to keep your results.
Evaluation
Cellan uses a ingredients that have been around for a bit now, and have a lot of scientific backing to them. Take EGCG for example. This is found in green tea, which is why so many health experts recommend green tea. It can help you burn fat without having the negative side effects you get from caffeine.
They also include plenty of berry extracts, including blueberry, blackberry, and even raspberry in the form of ketones. Raspberry ketones has been causing a stir as being the next big weight loss wonder supplement. They also include a healthy dose of Vitamin C that helps with many different processes in the body. The addition of Vitamin B3 has plenty of positive effects, and many doctors recommend a Vitamin B complex to their patients.
Overall, their list of ingredients doesn't include a lot of "fad" ingredients and it seems like a healthy mix of nutrients that would have a positive effect on the body without causing jitters, heart palpitations, or other problems typically associated with diet pills.
Final Cellan Review
Cellan seems to be making a valid attempt at bringing a quality product to market. However, their price point seems rather high for this industry, and their ordering process seems like they're mostly interested in obtaining your credit card number. There are other pills out there with similar ingredients that are not as expensive, and that allow you to try them out for a longer period before making your decision.
Our Recommendation
Cellan doesn't give you enough time to try their product with their trial. Sixteen days is too short to give it a proper evaluation, and the price of the product is too high to take it lightly. If they gave you a full 30 days to try it out, or it didn't cost as much as it does, we'd say try it, but you likely won't be able to make a judgment on it in such a short time frame, and it will just become a big hassle of trying to cancel before the trial expires.
What do you think? Does Cellan work or not?