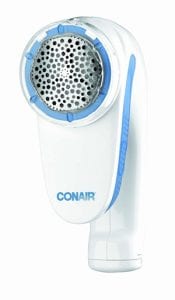 No one would argue that we spend a lot of money on our clothes. Then there is the added cost of keeping them clean and in pristine condition. Nothing is more aggravating then when we go to wear something and it is covered in little balls of fuzz. There is a solution for this and its the Conair Battery Operated Fabric Defuzzer.
Overview
We have all experienced those little bits of material that stick to our clothes after we have washed them a few times. They actually have a name for that it is called "pilling" and you simply cannot escape this process no matter what you do with certain materials. The Conair Battery Operated Fabric Defuzzer is designed to eliminate these aggravating little bits of material.
The Claim
The claim is that by using the Conair Battery Operated Fabric Defuzzeryou can extend the life of your garments for many years and avoid spending money on having them removed by a dry cleaner. The Conair unit is battery operated so it is portable and very easy to use.
The Hype
The hype is realized by the fact that almost everybody experiences this process of pilling and the lint that can accumulate on clothes and the tough job getting rid of it. Using Conair Battery Operated Fabric Defuzzer can help to rid clothes of those little bits of fabric in an easy and effortless manner.
The Cost
The cost of the Conair Battery Operated Fabric Defuzzer is a very reasonable $11.50. This is pretty good price for a unit like this especially when you factor in the fact that it is made by Conair which is a very reputable company that has been making small appliances like blow dryers and the like for many years.
The Commitment
The only commitment required for the Conair Battery Operated Fabric Defuzzer is the commitment to actually use the machine to do its job. Nobody likes to think about doing annoying little jobs like de-fuzzing your clothes. We all have better things to do after all. But, if you want your clothes to look like new you have to do it and this makes the job so much easier.
Evaluation
As we mentioned above, nobody really likes to de-fuzz their clothes or to even consider the fact they might need to. But when you go to put on a piece of clothing that is covered with pillings or lint you recognize that you might need to do something about it or have to either replace the item of simply not wear it and for many that is a choice that is not one that can be considered. The choice you then have is to send the item to the dry cleaner where they will perform the same function for you that the Conair does at home. Yes, you avoid the job but you have to spend money over and over again to keep doing it. The Conair Battery Operated Fabric Defuzzer is very easy to use and is completely portable as it is battery operated. There are three different settings so that you can adjust the height of the head for different depth of cut depending on whether you are trying to get rid of lint or pilling.
 Final Conair Battery Operated Fabric Defuzzer Review
The Conair Battery Operated Fabric Defuzzer and lint remover is a very handy little unit to have around the house. It does the job we all hate but are forced to submit to without incurring the expense of sending the garments to the dry cleaner. A dependable unit form a dependable company that does exactly what it says it will do.
Our Recommendation
This Conair Battery Operated Fabric Defuzzer is a must have for anyone who cares about the appearance of their clothes over time. Pilling and lint are a fact of life and this unit makes dealing with it that much easier and much more effortless. Easy to use and portable this will pay for itself over time! If you are looking for a similar item to compare this to then check out the Fuzz Secret.
What do you think? Does the Conair Battery Operated Fabric Defuzzer work or not?