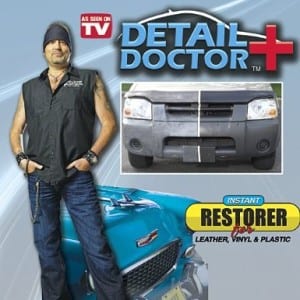 Detail Doctor is a liquid detailer that is supposed to restore color and shine to your car, while helping to protect against UV damage, and last for months. But can it really work as good as it appears to on TV?
Overview
Cars get worn out over time due to all of the driving and being out in the sun all the time. They need to be properly maintained in order to keep their showroom look, and that includes keeping them detailed which not only helps them look better in the present, but also helps when you go to resell the car, it will be more attractive and look like it had good upkeep.
The Claim
They say you'll be able to simply wipe this on and let it go to work on plastic and leather both inside and outside of your car. They say you can use it on bedliners, bumpers, on mirrors, your door handles, moldings, and more, really anything that is made out of either leather, vinyl, or plastic is a possibility.
The Hype
This has its own infomercial showing what it can do and how it works. These are notorious for both exaggerating claims as well as exaggerating the problem. But most people that are in the market for auto detailing realize the extent of their problem, so it's not easy to make it seem bigger than what it is. The hype comes from just how fast and how well this works. Can it really work that quickly, and cause such a dramatic turnaround?
The Cost
Detail Doctor is available at places like Wal-Mart for less than $15 or you can get it online from Amazon for around $18. Compared to the cost of having your automobile detailed professionally, this is far less, especially if you can get more than one detailing job out of each bottle, which appears to be the case.
The Commitment
This should be a reduction in your commitment level when using other detailing products that take longer or require more work to apply. By doing it yourself you are taking on more responsibility than by just bringing it into an auto detailing shop, but you are saving money by doing so. So compared to letting someone else do it, it's more of a commitment, but compared trying to do it on your own with an inferior product it's a better way to go.
Evaluation
Real world tests have been conducted on Detail Doctor, and the results are promising. Not only does it appear to do a good job, you don't have to use a lot of it to do your entire car or truck. There is some conflicting evidence out there where some users are saying that it doesn't work too well. The reasons for this appear to be twofold. One, you have to be sure you're ordering the right product and not a knock off. The other area where problems can arise is with following the directions. It not an easy thing to do sometimes, and in this case it matters with how the end results will look.
For example you need to wait for two or three hours if you want to put a second coat on. Many users will forget this and apply a second coat too quickly, not giving the first coat enough time to dry. Also, you'll need to be careful how you apply this, you'll want to use circular motions, which will be tough because the instinct is to just go back and forth. Also, what you use to apply this matters as well, and you'll want to use a microfiber towel for best results.
Final Detail Doctor Review
Detail Doctor is getting our Solid Try rating, based on feedback from users that have said it worked for them, and real world trials that showed positive results. It's not going to work for every car out there, as there are varying degrees of wear, but for most it seems to work well for them. Once you have it all completed it should be easier to keep up with it, it's just that initial application that can be the hardest because everything needs to be done all at once.
Our Recommendation
This is a product that could potentially save you a good amount of money if your car is in need of detailing. You have to consider that by going it on your own you are going to have to do all the work involved, which may or may not be a good use of your time, especially if you're not very good with this kind of thing. Even though it goes on easily and is not hard to use, doing an entire car or truck might take some time and effort on your part.
What do you think? Does Detail Doctor work or not?