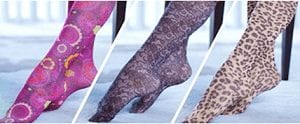 There has been a lot of talk about the value of compression clothing of different types, and amongst this is the compression socks, which we have talked about before. We thought it would be worth taking a look at these again, and are doing so with the Pep Sox.
Overview
Pep Sox are basically the same as many of the other types of compression socks on the market. What does make them a little different though is they have some fashion sense to them with their designs. For some they may be a little funky design wise, but it does beat the boring plain black or nude type. If you are going to wear compression socks then why not look good in them too.
The Claim
The company claims that these socks have graduated compression. They state that wearing them will help to reduce swelling and soothe and re-generize the legs.
The Hype
They focus on the material not being bulky which was a general complaint about compression socks. They zero in on the comfort aspect of the Pep Sox as well, indicating that wearing them makes you feel like you are getting a all day massage. Then for those that want to look good the hype focuses around the fun styles.
The Cost
You can order the classic lace style for $10. plus $6.99 S & H. or you can order all three styles for $10. and approx. $14. extra for shipping and handling.
The Commitment
They are going to feel different than your regular socks so there will be a little getting used to them. Then of course you are going to have to remember to wear them everyday. Most people change their socks every day, so this means you will have to launder them every few days unless you buy extra.
Evaluation
Many in the medical profession advocate the use of wearing compression socks. These can be a real pain to get on and off, but it is suggested that if you put them on first thing in the morning it is easier because the feet and legs have less swelling in them at this time. If they are too easy to put on then it may raise the question as to whether they are really providing enough beneficial compression.
Final Pep Sox Review
We are going to give the Pep Sox a Try/Buy rating. The one difference that we did see with this particular product was the graduated compression feature. We have talked about compression socks in the past like the Miracle Socks. When checking back on this we found it was basically getting the same amount of thumbs up and thumbs down. Pricing wise they are basically the same.
Our Recommendation
If you are thinking about wearing compression socks like the Pep Sox, then you may want to check with your health care professional first. What is important is that the socks are giving the right amount of compression, meaning not too much or too little. When buying these items outside of the medical manufacturers it can be hard to know if they are best suited for you. You may have a specific reason that is spurring you onto thinking about compression socks. It could be pain or swelling. You want to know the cause of this before looking for a remedy.
What do you think? Does Pep Sox work or not?