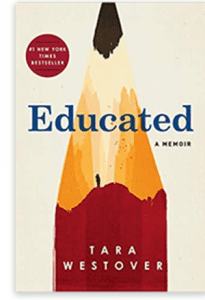 It may seem strange to ask if a book like Educated a Memoir works because after a book is a book. For most the main purpose of the majority of books is to entertain them. Although there are many books that have been written that do far more than that. Some books can be life changing and perhaps Does Educated a Memoir is one of those.
Overview
Educated a Memoir is a book written by Tara Westover. A writer who had the ability to take misery and turn it into a riveting experience. Not only for her personally but for the many readers of her memoir. Tara knew nothing about education except that her father did not believe in it. At least not until the age of seventeen when Tara was about to make an unbelievable discovery. This is a book that brings home the phenomenal value of education that is so often downplayed or taken for granted.
The Claim
Educated a Memoir takes the reader through Tara's journey of living an extremely secluded life in rural Idaho. When the priority in life was survival. The journey continues as Tara once breaking away from her parent's oppression led her on the path of her eventually getting her PhD from Cambridge. Keeping in mind that Tara had never seen the inside of a classroom until the age of seventeen.
The Hype
The hype around Educated a Memoir is the lessons to be learned from it. It is a true testament of how someone no matter what their situation is can take themselves from the pits of despair and nothingness to greater heights. Provided they are given the opportunity and resources to do so.
The Cost
The cost for Educated a Memoir is $16.80 for the hardcover and $7.45 for Kindle.
The Commitment
For some books there is a commitment of having to make yourself finish it in its entirety. Not so for Educated a Memoir. This is one of those books that you probably will not put down until you have finished the last page.
Evaluation
The rants, raves and reviews about Educated a Memoir really says it all. It is a multiple best seller on many different levels including the New York Times along with the Wall Street Journal and the Boston Globe. It has been name as one the ten best books of the year. Oprah has also given this book her blessings.
Final Educated a Memoir Review
Educated a Memoir is one of those books that will be beneficial to everyone that reads it. For those that are contemplating furthering their education but are facing many hurdles then this book may be an inspiration to them. For the young ones that are questioning the value of their education they need to read what Tara has written. Then for those who just need some inspiration this is the book for it.
Our Recommendation
If you are really looking for some additional inspiration be sure to read Becoming.
What do you think? Does Educated a Memoir work or not?
[kkstarratings_custom_footer]