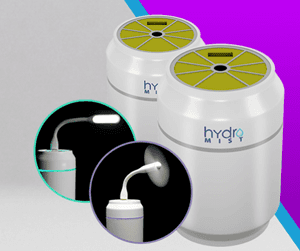 The ability to have comfortable humidified air has many benefits people are looking for. Without the proper level of humidity, many people suffer from dry skin, breathing issues, sinus problems, and broken sleep. The Hydro Mist can provide the level of humidity people need on a personal level.
Overview
The Hydro Mist is a portable, powerful personal cool mist humidifier. The Hydro Mist removes harmful bacteria while moisturizing the cair.
The Claim
The claim of the Hydro Mist is that it can be used for several purposes, from eliminating odors, aromatherapy diffuser, removes harmful bacteria and adds moisture to the air.
The Hype
The hype about the Hydro Mist is the size, portability, and the power it has. The hydro mist lasts up to four hours, does not require batteries, and is so portable, and it can be taken and used anywhere. The Hydro Mist works with bottled or tap water and also has a fan accessory to direct the mist where it is desired. The Hydro Mist has six different LED Lights that change color. The personal humidifier also comes with a bonus reading light.
The Cost
The cost of the Hydro Mist is only $19.99 plus $6.99 shipping and handling fees. There is a limited time offer to buy one get one free. The free unit only requires a payment of 6.99 for shipping and handling. There is also a 30 day Money Back Guarantee.
The Commitment
The Commitment of using the Hydro Mist is ensuring it is always cleaned after use to maintain quality humidifying mist and clean air. The personal humidifier will produce the desired air quality if used regularly.
Evaluation
The Hydro Mist is an amazing product that can meet the needs of every household member. The personal humidifier is great to use in a child's room when they are ill and require additional humidity to relieve symptoms. When traveling this product is ideal as it is so compact it can easily be packed to take anywhere. The cooling fan and LED reading light accessories are a great addition to this personal humidifier, especially when vacationing in hot climates. Utilizing this product as an aromatherapy diffuser has additional benefits to help relax and soothe the body and soul.
Final Hydro Mist Review
The Hydro Mist Personal Humidifier gets a strong thumbs up. It is an amazing buy 1 get one free deal, and the 2nd one would make a great gift. It is a multi-purpose product that can only be of benefit to anyone who chooses to purchase and use it.We would highly recommend The Hydro Mist as it is portable, economical, and very easy to use. The Hydro Mist can be used as a night light, a reading light, air purifier, and does not require batteries.
Our Recommendation
If you are looking for something a little different then you may want to check out this Salt Lamp.
What do you think? Does Hydro Mist work or not?