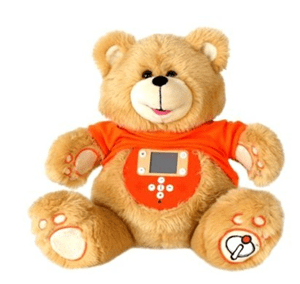 Choosing the best toys for kids is not all that easy. Mostly because there are so many to choose from, it means having to decide between something that is soft and cuddly, or a toy that allows for interaction, or perhaps educational. Choosing a toy that falls into two of these categories is like buying two toys in one. A toy that can be classified as this is the ITeddy.
Overview
ITeddy is a plush cuddly teddy bear that is also an interactive and educational toy. Not only is it a toy that can bring comfort to the young ones it has a built-in screen component that allows the little ones to watch videos or slide shows. Or they can listen to music and play games on it.
The Claim
The promoters of the ITeddy are letting this toy speak for itself. It is pretty basic in what it has to offer. It is the combination of it being a plush toy and an electronic all it one that is the key promotion factor.
The Hype
The hype behind ITeddy is the concept of the combination of it being a snuggle type toy and an interactive one as well.
The Cost
ITeddy is offered by several different sellers on Amazon and at a variety of different prices. The prices range from $44.51 up to $62.99
The Commitment
The commitment really comes down to whether you as a buyer feel that the ITeddy is worth the cost. Also, is it something that the intended recipient is really going to get good use out of.
Evaluation
Every child reacts differently to their toys. They will each soon form their favorites. For some, they really take to the ITeddy while others are only intrigued by it for a short time. To evaluate it means looking at what those who have bought it have to say about it. For the Iteddy there are some mixed reviews depending on which seller you are checking out.
Final Iteddy Review
Although we like the concept of ITeddy we are restricting our rating to a Try/Buy. There are some important components that it lacks in. For one it does not allow for internet access. Nor can the kids use a set of headphones with it. This is a toy that has been on the market for a long time, so it is not making use of the latest technology. But, it draws the attention of potential buyers because the concept of the integration of it being a snuggle type toy and an interactive one is a modern day concept. However, for some kids, it may just be the perfect toy. Out of 10 customer reviews it has only received a 3.3-star rating. For something that in many ways could be considered to be outdated, it is fairly pricey.
Our Recommendation
If your focus is on a cuddle toy that does a little bit more than you may want to check out the Flip N Play. This allows the kids to take one cuddle toy and turn it into another.
What do you think? Does iTeddy work or not?