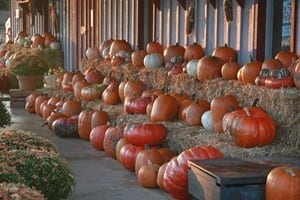 Straw bale gardening is another but unique form of container gardening. It comes with a lot of benefits that traditional gardening doesn't offer. You don't have to fiddle around with soil, like digging it up, turning it over and weeding it.
Overview
Basically you have to condition the straw bales. You want to lay them on a ground cover so the weeds from the ground won't penetrate the bales. The conditioning process takes a few weeks. Then you want to build your trellis structure to accommodate your plant growth. Finally you will be ready to plant your seedlings. Then the final step will be your harvesting, and getting to enjoy that fine produce that you have grown from start to finish.
The Claim
It is a much easier form of gardening for those who have issues with bending over. Those that are really enthusiastic about this type of veggie growing say that it works for almost any area. For those that don't have rich soil to take advantage of it can be an ideal solution.
The Hype
It is a lot cheaper to straw bale garden then it is for traditional gardening. They say that you don't have near the problems with bugs and plant destruction from them. With this type of gardening you don't need near the amount of room that you would require for a traditional type garden. Harvesting is really easy, and especially for potatoes.
The Cost
The cost is going to depend on where you are going to buy your straw bales. It might be worth a trip to the country to find a farmer that will be willing to sell you a few bales. Or you can buy them from your garden center but they will probably be more expensive.
The Commitment
There is no type of gardening that doesn't take some type of commitment. The less the better right? Your biggest commitment here is going to be learning the entire method from start to finish, which isn't going to take that much time. Then implementing the patience while waiting for your straw bales to condition.
Evaluation
Any alternative that doesn't disturb the soil for growing is probably a good thing. Then the fact that straw bale gardening allows a lot more people to participate who are not able to ground garden is another big advantage. Then for those that don't have a lot of space, this is ideal.
Final Straw Bale Gardening Review
We are going to give this form of gardening a Thumbs up rating. There are a lot of advantages to it, and even if you were not too successful at it, then no harm done as you have not invested a whole lot of money or back breaking efforts. There will be a learning process to it, and you are going to find many people have their own opinions as to what is best. For you in the beginning it is going to be trial and error.
Our Recommendation
We recommend that you start out with a basic book about Straw Bale Gardening. This will give you a starting point that you can continually refer back to. Then in addition to this, do some online research and see the different ideas and challenges that others have met. Alternative gardening is becoming a big thing in many parts of the world. We have written a lot of reviews on various garden growing programs that may refer to only one type of produce.
What do you think? Does Straw Bale Gardening work or not?