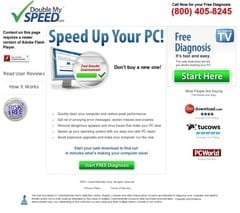 DoubleMySpeed.com, now known as MaxMySpeed.com is the site you may have heard about on radio ads, promising to speed your computer up and get it to perform like it used to.
Overview
As you use your computer, the information it stores starts accumulating, and before long it will start slowing down because it's running out of hardware space. This means that after months and years it will rarely function like it did when you first got it. Most people think that this is just planned obsolescence, and that it's time to go out and get a new computer. But what if you could keep your current computer and turn back the clock on how well it works.
That's the premise of DoubleMySpeed.com, which changed their name and site to MaxMySpeed.com, probably because people were complaining that the service didn't double their speed. By using a vague term like "max" there's no way to prove or disprove that it works, it's all relative.
The Claim
They say that you'll be able to increase your PC speed in just a matter of minutes, and that the software they have has recently been improved. They also say that they have a powerful scanner that can find errors and problems with your computer and fix them as it goes along. This process, they claim, will result in an optimized hard drive, so your computer will run more quickly, and you'll be safer because you won't be storing all of that old data on your computer, which potentially harbors viruses.
They go on to state that their service takes all of the cookies off of your computer, so you won't be tracked as you go about your business online. It can also get rid of files you just don't use any more, or that are unnecessary, so you can free up space for the stuff you actually do want. Your computer will start up more quickly, and also shut down more quickly, which as you know can be a real pain when you just want to get started or finish.
If you've been getting those dreaded error message, they say that this will lessen the number of times those will pop up, because it deletes the corrupted files that cause it. These are a lot of claims made by a simple software, so let's delve into this and see if it's something you should sign on for.
The Hype
The hype is their "free diagnosis". Of course they will find something wrong on your computer, and will hold the solution under lock and key until you pay to upgrade to the full service. Many companies out there like to use a phony free trial as a way to get their foot in the door of your wallet or pocketbook. The theory is if they can just get you to download it, there's a strong chance you'll just go through with the purchase since it's already installed.
The Cost
They'll pitch you on their $40 upgrade once they find a problem on your computer. It's almost laughable to think that they would ever not find a problem. This makes the whole dog and pony show of offering a free scan very silly, and a big waste of time.
The Commitment
What gets most people on board with this is that they don't have to do anything to fix up their computer. There are some simple things you can do to keep your computer clean as you use it, like running the disk de-fragmenter, but most people don't do them, and only look for an answer once it's become a big problem.
Evaluation
It doesn't matter whether DoubleMySpeed.com actually does anything, because it's overpriced for what it is, and the roundabout way they go about things makes them look like a big scam. If they had a quality product that got awesome ratings, they would just state what the price is and people would pay it. But hiding it behind a free trial makes it seem like they are only targeting those that would go along with their sales process.
Final DoubleMySpeed.com Review
You can safely avoid DoubleMySpeed.com. There are other products out there that are free, and that don't require you to jump through their hoops or play any games in order to download and use it. CCleaner is one example of a free solution to the same sort of problems described by MaxMySpeed.com
What do you think? Does DoubleMySpeed.com work or not?