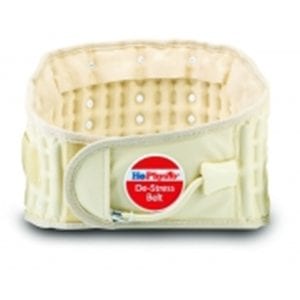 Back pain is one of the most common complaints that many people have and it is not something that can just be brushed aside or learning how to deal with it. There may be some relief with a product like the Dr. Ho Decompression Belt and if so then how much relief and for who?
Overview
With both chronic and acute back pain being such a big problem for many there is no wonder that there are a ton of products and devices on the market to try and relieve this. Those that suffer with this problem often end up paying a ton of money in the quest for looking for an alternative to heavy drugs, and pain relievers to give them some comfort. The Dr. Ho Decompression Belt is touted as being one of a kind belt that provides clinical grade traction and decompression therapy.
The Claim
The Dr. Ho site claims that this product when used as directed will inflate air into itself and as it expands vertically and as it does so it gently stretches and tractions the lower back. They state that this device has been developed by Dr. Michael Ho, a back pain specialist. When you look at Dr. Ho's credentials you will note that he is a Doctor of Chiropractic and Acupuncture.
The Hype
When it comes to back pain there isn't much hype that is needed other than a promise that the product will provide some relief from the nagging and sometimes very substantial back pain. Even the cost will be secondary if a potential buyer is convinced that the product may work for them.
The Cost
It is really important that you are checking out the right product as Dr. Ho has many different devices and products on the market. At the Dr. Ho Now site you can purchase the Dr. Ho Decompression Belt for about $171. On Amazon you may be able to get it for about ten dollars cheaper.
The Commitment
You are going to have to dedicate yourself to following the directions for the proper use of this product as well as adhere to its time limits and suggestions. It may be something that you have to do on a regular basis and you may have to be realistic in your anticipated results. There are a lot of reasons why people suffer with back pain and before seeking out pain relief solutions it is wise to have a proper medical diagnosis performed first before self treating yourself.
Evaluation
A lot of people that suffer with different types of muscular or joint pain are really high on compression type treatments. Recently we talked about compression devices for other parts of the body like the knees and elbows in our Copper Fit review. The Dr Ho Decompression Belt works on the premise that decompression helps to relieve the stress being placed on pinched nerves that are a result of a variety of different types of conditions.
Final Dr. Ho Decompression Belt Review
We are going to give this product a Try/Buy Rating. We are doing so because there may be some validity in the approach of how this product works in lifting weight off the back. If the marketing material is to be relied on it states that the design of this belt helps to lift the weight of the upper body off the lower back. This makes sense in that it would mean less pressure on the lower back. It has to be considered that there are some mixed reviews as to the worth of this product for pain reduction. At the same time though it also has to be considered that everyone's back pain and cause is not the same, so it stands to reason that some may find this device exceptional while others find it has no value at all.
Our Recommendation
As mentioned your first step should be first to see your health care provider and get a firm diagnosis as to the cause and what options you have regarding your back pain. Next if you are interested in this Dr. Ho Decompression belt, then really research it in depth and discuss this with your health professional. Then if you do decide to buy make sure you know what your return options are and that you are buying it from a reputable source.
What do you think? Does The Dr. Ho Decompression Belt work or not?
[kkstarratings_custom_footer]