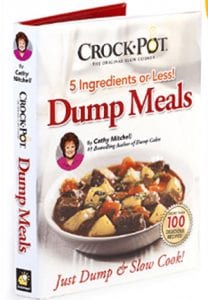 Nobody wants to be spending hours in the kitchen slaving over a hot stove when the nice weather gets here. For this reason we thought that maybe now would be a good time to introduce you to Dump Meals.
Overview
You will see by looking closely at the title it says Crock Pot Dump Meals. You will also see by the cover it says 5 ingredients or less. So basically this is a meal in a pot, where you are going to dump everything in at once and let it mix itself together as it begins to bubble and cook.
The Claim
The company is claiming this is really an easy and simple way to prepare a meal. They are saying that the idea for Dump Meals came from Cathy Mitchell who had produced the well advertised Dump Cakes. Now instead of being restricted to just dumping for dessert you can actually dump a whole meal.
The Hype
The hype of course stems around the fact that it is quick and easy, and you don't have to keep checking on its progress as you normally have to do with a traditional stove top or oven cooked meal. It is also focusing on no having to mix ingredients separately which can be a little time consuming.
The Cost
You will have to pay $10. plus $6.99 shipping and handling. If you dump in another $6.99 then you will get the bonus book Freezer Bag Dump Meals.
The Commitment
You are going to have to make sure that you check the Dump Meal recipe for the day and make sure you have the ingredients on hand. Remember, that when you are crock pot cooking it can take several hours. So you are going to want to get it started early in the day.
Evaluation
The first Dump Book by Cathy Mitchell was really well advertised and no doubt drew a lot of attention. It is available on Amazon and is now currently selling in hard cover form for $1.99. This particular book has been given a 3.8 star rating based on 62 reviews. Now also on Amazon, Cathy has another book called Dump Dinners that is selling for $13. hard covered. Then yet again there is another version called Quick and Easy Dump Dinners for $9.98. So it makes one wonder if there is a lot of repeat content within these.
Final Dump Meals Review
We're going to give the Dump Meals a Try/Buy rating only because this is like an extended spin on what a crock pot really can do without being hyped up as something new and exciting. There are tons of crock pot recipes on the market where you merely need to just dump the ingredients in. Perhaps the big difference here is that it is all revolving around just using 5 ingredients.
Our Recommendation
Usually the sort of people that would be interested in what the Dump Meals has to offer is because they want quick and easy methods for meal preparation. For those individuals a very different yet unique approach to quick cooking is the Micro Master. This is a product that has been around for a long time, but it is still getting some current and great reviews.
What do you think? Do Dump Meals work or not?