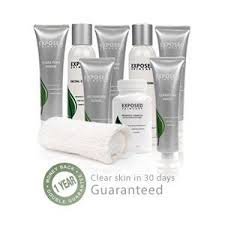 Exposed Skin Care is a line of acne-fighting products that claims to be a hybrid of nature and science. Early reports show that many people who try it are happy with the way it works, but of course there's always a few naysayers. So we took a closer look to see what the real story is here, and whether or not it's worth trying out.
Overview
Perhaps no other skin problem on the face of the planet gets as much attention than acne. Zits can cause a serious dent in a person's self esteem, and they become enemy number one in a quest to vanquish them all and get clear skin back. During specific times in our lives acne can be a bigger problem than others, but there's no reason why you can't enjoy clear skin the majority of the time, it just takes extra effort during those formative years.
The Claim
The makers of Exposed Skin Care say that you can get clear skin in a matter of 30 days, and they guarantee it. They back up their claim by allowing you to return the product within those 30 days, but they also give you the option to send it back anytime after that for a full year. That means you don't have to stress out about trying it, and the major onus is on the company. It's interesting to note that they don't seem to frazzled about being inundated with returns, and they seem to be doing a healthy business both from new and returning customers.
The Hype
Acne treatments all come with hype because they all make the promise of clear skin. When you have a face full of break outs that thought of clear skin is enough to drive you to make all sorts of purchases. That's why it's important to make sure that you don't get carried away and buy products that make empty promises. It's good to do your due diligence on each acne product and find out what the consensus is on whether or not it works. It helps to cut through the hype and get to the real answers.
The Cost
The cost for the complete Exposed Skin Care system is $70 and leaves you wanting for not. It comes with everything you need in order to properly treat your face. You'll have all of the bases covered, including cleaning your skin, toning your skin, moisturizing your face, and treating each break out individually so it spends less time on your face. When analyzing whether a product is priced right or not, you have to take into consideration the products it's replacing, and the ones that you won't have to buy anymore because of it. With all of the tools this provides, you'll have an impressive arsenal, and should be able to handle any zit that pops up.
The Commitment
Treating your acne requires daily effort, and you'll have to be as diligent as the acne is if you want to get on top of things. The good news is that once you do get a handle on the situation, it's easier to maintain clear skin than to get it clear. The Exposed Skin Care system takes both steps into account, getting you to the Promised Land, and then keeping you there. You just have to set aside the time to use it, and make sure that you're using it as directed, following the directions religiously.
Evaluation
The gimmick here is that they're using both all-natural products, plus ingredients that have been scientifically proven to work, and have a long track record of success. The end result is that you're staying close to nature, but you're also getting results. Often those two are mutually exclusive, the more all-natural you get the less effective it is, and vice versa. Blending the two is more of an art form than anything else, and reports are showing that they're pulling it off.
After evaluating dozens of acne treatments, we've seen ones that work, ones that don't, and ones that are basically just scams. What we typically see in regards to user feedback is a split down the middle, with roughly equal numbers contradicting each other. Exposed is different from most we've looked at, with the large majority saying it works and that they're happy with their purchase. What's more, those that say it didn't work for them still concede that the product was working for a time, but then peaked and didn't provide any better results.
Final Exposed Skin Care Review
Exposed Skin Care is getting our Thumbs Up rating, you simply can't argue with the amount of positive feedback their kit has received. Yes, it has an elevated price point, but that is justified by the high likelihood that this will work for you, and that you won't need to supplement their kit with any additional acne fighting products.
Our Recommendation
Each person is different, and you might find that you end up as one of the minority of users that didn't experience success with it. The first thing to realize is that you're covered by their money back guarantee, and the second is to not give up. Your skin type is just one that didn't respond to the ingredients used here, but there are plenty of other treatments available, so you simply move to the next well-reviewed product with a money back guarantee. Just don't give up!
What do you think? Does Exposed Skin Care work or not?
[kkstarratings_custom_footer]