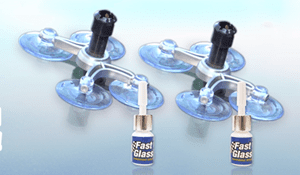 Vehicle owners are constantly faced with some type of repairs at some point in time. There are plenty of components that vehicles are made of that can break down. A common problem that can occur is a cracked windshield. This means having it repaired, but it may be possible to tackle this as a "do it yourself" project by using Fast Glass Windshield Repair.
Overview
Fast Glass Windshield Repair is a product that has been designed to allow vehicle owners to fix small cracks and chips that have occurred in their windshield.
The Claim
There are plenty of claims that are being made about Fast Glass Windshield Repair. Such as with the proper application of this product the repair is permanent. It is airtight, and water is not going to affect it. Promoters are claiming that the results of the repair are just as good as what a professional would do.
The Hype
The hype that pertains to Fast Glass Windshield Repair is that it is convenient and a cost saver. Having a glass repair done by a professional is not something that most want to put through as an insurance claim so that the vehicle owner will pay for it themselves. Being able to save money by doing the repair is a real bonus.
The Cost
The cost for Fast Glass Windshield Repair is $19.99 which includes the shipping, and there is a buy one get one free offer if a buyer wants to pay an extra $9.99. It is backed with a 60-day money back guarantee.
The Commitment
The commitment for Fast Glass Windshield Repair is that you have to do the repair yourself. According to the promoters of the product, anyone can do this as everything you need comes with the product. There is going to be some prep work before using the product like cleaning the glass properly and carefully. Then you will want to do this repair on a sunny day as you will need to use the curing strip so the product can set. It is estimated that it will take no more than fifteen minutes to repair. It is the sun that is going to cure the product, so there is no need for any special type of lighting.
Evaluation
According to the promoters, the Fast Glass Windshield Repair is good for repairs of cracks, scratches and dings that are less than 12 inches in diameter. Anything larger than this will need a professional repair. Overall being able to tend to minor windshield repairs is a good option. Stone chips are such a common occurrence that being able to fix these quickly is something that is needed.
Final Fast Glass Windshield Repair Review
We are prepared to give Fast Glass Windshield Repair a try/buy. It may be a product that you want to keep on hand even before you need it. It is reasonably priced and user-friendly, so it has some good positive aspects of it.
Our Recommendation
If you are looking for a good product to enhance the viewing aspects of your windshield, then you may want to take a look at Rainx.
What do you think? Does Fast Glass Windshield Repair work or not?