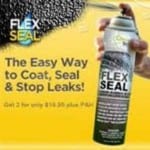 Flex Seal is taking a product that has been around for a long time, and marketing it to the public as an all-in-one fix for many problems around the home. If you watch their promo you will no doubt think of things around your own home that need fixing, and would wonder if this does the trick.
Overview
Because things are either too hard for us to fix on our own, or too expensive to have someone else fix for us, they get left undone. This can lead to further problems, especially if something is leaking water and causing water damage. A quick solution to this problem would be great, and so something that sprays on and fixes the problem permanently would be very welcome.
The Claim
Flex Seal is liquid rubber in a can. This means that when you spray it onto a surface, it will make it waterproof, but also remain flexible, like rubber. There are tons of jobs that it can do, from repairing holes in things that are supposed to be waterproof, to cracks and leaks in all sorts of things from tents to gutters.
They say that when you make a repair with Flex Seal that it will last a lifetime. They also say that "it's like a handyman in a can". It's easy to see that something as simple as liquid rubber should last a long time. It's basically like a durable plastic, which seems like it would stand the test of time and wear and tear.
Most people will probably have a few things around the house in mind that they want to repair with Flex Seal, but to get your creative juices flowing, they say that you can use it to repair cracked planting pots, fountains, air conditioning drip pans, appliances, camping gear, PVC piping, and items in your motor home.
The Gimmicks
In the ad, he sprays some Flex Seal onto a metal colander and it makes it into a watertight bowl. That's pretty impressive, and provides enough of a push for many people to go ahead and try it.
However, the gimmick that is supposed to push you over the edge is the one where they replaced the bottom of a rowboat with a screen door. They then spray the screen with Flex Seal to make it waterproof, and then put the boat back into the water. Not only that, but the announcer actually gets into the boat and starts rowing!
Check it out for yourself!

The Cost
Flex Seal originally sold for $20 plus shipping and handling if you ordered from their official sales channels. They've got the infamous buy one get one free just pay extra shipping "deal" so you end up with two cans of the stuff for $40. If you want a single can you can get one for just under $26 including shipping through Amazon.
The Commitment
Finding things around your home to use Flex Seal on is the only real commitment you have to get your money's worth. If it works the way it shows on the ad you won't have to worry about the problem any more, and you'll have less things weighing on your mind, actually reducing your commitment level and providing more time, and cost savings than if you don't have it handy.
Evaluation
Liquid sealants have been around for decades now, and the makers of Flex Seal in no way try to claim that they've invented the wheel here. They haven't even re-invented the wheel, as there is nothing revolutionary about spray-able rubber. They've done a fine job showcasing and brainstorming the many uses that it can do, and introducing the benefits of liquid rubber to the masses.
The quality of the product itself is excellent, as long as you don't expect it to be exactly like it's shown on TV. It does provide a waterproof seal so you can fix things like a leaky gutter. Since it is an eye sore once you spray it onto any surface that isn't black, it's been made to be able to cover it up easily with paint, so you can match it to whatever you've sprayed it on.
However, there will be problems that can't be fixed with Flex Seal, so it's important to maintain reasonable expectations. Apparently, jobs that require a rounded surface or lots of bends with nooks and crannies are not very easily repaired. For example, if you have leaky pipes under your sink, it might not be able to repair them very well, especially if you can't get the surface dry in order to apply it.
Final Flex Seal Review
They do a good job of pitching their product, and the fact that producing liquid rubber is not rocket science leads us to believe that this is a winner in most cases. It won't work all the time, but if it only fixes a few big problems that would have cost a lot more to have a professional come out, then it's worth it in the long run.
Also, once you have it, you'll probably think of several other jobs that it can do around your home, or if something ever breaks, you'll immediately think of Flex Seal as the fix.
Our Recommendation
If you have a job that requires a nice fine coat over a flat and even surface, you'll most likely be well served by buying a can or two of Flex Spray. If you can only think of a few things to do with it, order just one from Amazon, but if you have a big job in mind, or you think you'd like to have a spare bottle in the home or workroom, get two from their main site to save a few bucks.
What do you think? Does Flex Seal work or not?
[kkstarratings_custom_footer]