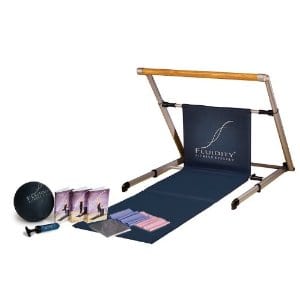 Fluidity is definitely eye catching once you see it. It looks like the sort of handrail that ballerinas use to practice on. Once you see the way they use it to add flexibility and get a workout from, it makes you wonder if it could really work the way it claims, and whether you can get an effective session from a simple looking apparatus. So lets see what people are really saying about this, and see if there's anything else like it that you might consider as well.
Overview
Some of the more popular workout programs these days are all about taking things to the next level. It seems like getting in shape just isn't good enough any more, and you have to get into the same sort of shape that elite athletes are in if you want to be healthy. That's why you'll see a lot of programs try to push the envelope and come up with new and sometimes bizarre routines in the name of fitness. One of the things that attracts people to this fitness bar is the serene way in which you can get your body moving and working without taking part in some boot camp style training.
The Claim
Fluidity says that you can get a total body makeover by just working out two times a week. This goes against most conventional wisdom that dictates that you need to work out at least 3 times a week to see results. It's also counter-intuitive that you could get a full body workout from a bar. They say that you'll not only lose weight, but also build strength with a series of workouts that are kinesthetically designed to get the most results with simple and low impact moves.
The Hype
The TV promo will hype this up a bit, because they successfully portray this as a way to get fit without a lot of crazy antics that you might see on some of the more aggressive at-training programs. There's not a lot of people jumping around and getting amped about working out, it's shown as a way to subtly get your muscles engaged and get a good workout in, without going to extremes or pushing yourself past your limits. So it's got some pretty subtle claims, and the only real hype is that they say you only need to use it twice a week.
The Cost
The cost of Fluidity is where a lot of potential customers are going to get tripped up. They make it easy enough to try out, offering a trial for $15 which includes free shipping. If you don't like it you send it back at your expense. If you do like it it's going to be 12 payments of $40 for a total of nearly $500. It might be a little tough to swallow, considering that it's just a bar, and it's about the same price of many gym memberships, and more expensive than some of the discount 24/7 gyms that are out there.
The Commitment
This is where they try to make their strongest sale, saying that you only have to use it twice a week for 30 minutes each session. That's about as low commitment as you can get while still promising to make over your body. As funny as it sounds though, the lower the required commitment level, the harder it can be to remember to do something, and to stick with it. Sometimes a daily workout regimen is easier to stick with than remembering which day you need to work out on. As long as you're good at marking your calendar and sticking to the workout days you should be fine.
Evaluation
While the idea behind Fluidity is a solid one, it's hard to justify paying almost $500 for the apparatus. There are plenty of ways to workout, and tons of at-home fitness DVDs that can transform your body, and don't require any equipment at all. However, if this floats your boat then it merits further consideration, and looking at the positive responses it's getting, it seems like this would be a good way to work out, especially if you've tried other methods that just didn't agree with you.
The simplicity of the bar can't be overstated. You end up using your own body weight with this, and it's designed to give you the same sort of training that dancers use to get their physiques. The bar might be expensive, but reports say that it's well constructed, and frankly there's not a lot of different alternatives at this price point, and you don't want to underpay for a bar that would come loose and possibly injure you during your training. You can buy dancer bars for about $100 to $200, but they don't come with instructional videos on how to use them, and aren't part of a total package.
Final Fluidity Review
We're giving Fluidity a Solid Try, but only if the price doesn't bother you, and you're bent on using this as your way of getting fit. Pilates classes will run you just as much, and will give you the same sort of lean physique that is promised by this fitness bar. You could also try yoga for the same sort of flexibility and low impact workout. But if working out with a bar appeals to you, and you resonated with the more relaxed, static approach that this uses, you'll likely be happy with your purchase, and after the year your payments will be done and you get to keep the bar.
Our Recommendation
When trying to give your body a makeover in the fitness department, you have several options available to you. When a system is packaged like this one it takes a lot of the guesswork out of things. You can get their DVDs and follow along, and they also address the nutrition aspect of getting your body to be the best it can be. Compared to going it on your own and trying to reinvent the wheel, this might be a comprehensive way to make sure that you're covering all of the bases.
What do you think? Does Fluidity work or not?