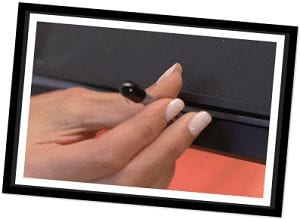 We all love and appreciate the pieces of art work our little ones create for us. Really these should be cherished like gold and preserved to look back on in future years. Unfortunately they end up getting lost over time, but the solution to this just may be the Frame for Me.
Overview
You will most likely have to admit that you receive an abundance of art work. It can be a challenge finding places about the home to display these, but you know how important it is to your young one. It isn't long before the fridge becomes laden with these works of art. With the Frame for Me you can stack several pieces of art work into it at one time, and just keeping exchanging the pictures within them. This way much of the art work is being protected and you can easily exchange the pieces for viewing.This frame is able to hold 50 pieces of art work at once.
The Claim
The company claims to have made their frame really easy to use. It opens from the front so you won't have to fiddle around with the back and removing the back piece each time you want to rotate the art.
The Hype
They hype is easy because the Frame for Me is really going to impress your kids that they have such a wonderful way to have their art work displayed. It is another way of you sending a message to them that their work is beautiful and it means a lot to you.
The Cost
You are going to pay $19.95 plus $5.95 for shipping and handling.The bonus that comes with it is a removable mat stand.
The Commitment
The Frame for Me seems to be really easy to use, so all you are going to have to do is to remember to rotate the art work on a regular basis. That's probably not going to be a problem as most likely you receive a new piece all most every day from your young enthusiastic artist.
Evaluation
We really do like any type of product that boosts the confidence of the little ones. Their creations are so important to them and us. Having a product like Frame for Me is quite innovative and really does a lot for preserving these little artistic gems. They are far less likely to get damaged or tossed away.
Final Frame for Me Review
We are going to give the Frame for Me a Thumbs Up rating. You have the choice of letting it stand or mounting it. You will want to be careful as to what you use to mount it with. We did talk about a picture wall mount in the past called Monkey Hook Picture Hangers, but these have been getting mixed reviews, so you may want to shop around a little for the appropriate hanger.
Our Recommendation
We recommend you try one Frame for Me and if it impresses you then think about getting a few of them to use around the house, or they would make a perfect gift fully loaded with artwork for the grandparents.
What do you think? Does Frame for Me work or not?