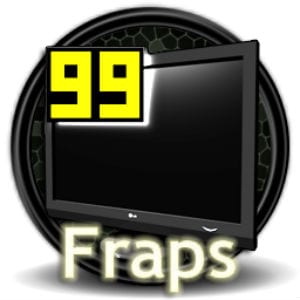 Fraps is a way to capture your gaming experience and share it with your friends or other gamers quickly and easily. But how well does it work, and is it worth paying the registration to get the full features?
Overview
There are times when you want to share the action with other gamers and non-gamers alike, but ordinary screen recorders aren't able to catch all of the action because things are happening too quickly for them to keep up. Fraps is presented as a way to create smooth-playing videos of your game play, and also as a way to show how many frames per second you're getting from your machine. This is software geared towards the serious gamers out there, the ones that spend a lot of time playing, and the ones that spend a lot of money on their system to play the most resource-intensive games.
The Claim
Fraps claims that you can use their software in a few different ways. They say that you can use it to benchmark how many frames per second you're getting. They also say that you can use it to record your game playing in crystal clear video. They also say it can be used to capture screenshots and have them ready to go in popular photo formats like JPEG.
The Hype
Being able to show how many frames per second you're getting on a game is definitely a way of bragging that you've got a fast system. Some gamers question whether or not frames per second really makes all that much of a difference, saying that they can't really tell the difference between 30 and 45. But if you're a serious gamer you'll notice the difference on some of the games where the action happens quickly, like racing games and MMORPGs.
The Cost
It's free to download and start using Fraps but until you pay there will be a few limitations. First, you'll be capped on how long you can record for, and everything will have a watermark. The cost to remove these limitations is $37 and is payable through PayPal. With a lot of software packages you end up having to pay for important updates and upgrades. With Fraps those are included free for the lifetime of the product.
The Commitment
It's easy enough to download and start using Fraps and we were up and running in just a few minutes. They do mention that their software works best when you have an NVIDIA GeForce or AMD Radeon graphics card, so if you don't have one of those you might want to consider getting one since it's going to make a huge difference in the quality of the games you're running as well as helping the software perform at its best.
Evaluation
If you've tried to use other screen recorders to capture the games you play, you've likely noticed that they can't keep up with the action and you end up with a choppy video that doesn't really capture the essence of how fun it was to play the game. the videos that Fraps makes are smooth, clear, and look just as if the game is being replayed. When you're trying to show off what you did clarity counts, and this software does a good job of showing the action just as it happened.
This is one piece of software that hasn't been abandoned by its developers. They have made regular updates on it through the years, so this is something that is going to work well right when you get it and continue to be improved upon as you go along. Since updates are included free with your registration this means that with just one fee you solve your needs not just now but down the road as well. Technology is always improving, and with processing speeds and games always advancing you'll want a benchmarking and recording software that evolves with it. That's why it's getting our highest rating.
Final Fraps Review
Fraps is getting our Thumbs Up rating, since it flat out works. It has an easy to use interface and it's all very intuitive. After looking at a few different other options, Fraps performed better than anything else we looked at and at this price point so you can't go wrong. They give you free updates so the $37 is a one-time fee and you can record as much as you'd like.
Our Recommendation
If you've ever wanted to be able to record your playing and show it to others, this is the way to go. The videos it produces are easily uploaded to YouTube so you can start your own channel all about the game you play, show tips and tricks, or simply show off how good you are. You can easily delete videos that don't show your best moves, and create an archive of just your best stuff.
What do you think? Does Fraps work or not?