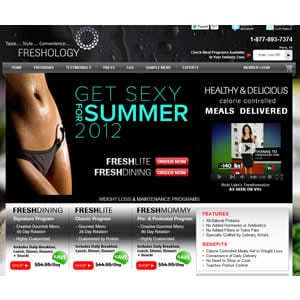 The word gourmet gets tossed around so much these days that it's nearly lost all meaning, but the folks at Freshology are trying to bring back some of what it stands for. Their line of foods is actually prepared by hands by real chefs and shipped to your door twice a week. But at this price point, do they really deliver on their promise of gourmet quality food, or is it just a lot of hot air?
Overview
Fresh, gourmet foods are something usually reserved for a five star restaurant or at a special resort when you're on vacation. The alternative is trying to make them yourself, but this entails going to a specialty food store, buying select ingredients, and then making sure you cook them before they spoil in the refrigerator. If you've looked into some of the best-selling diet delivery programs, and even tried some of them, you will see that their food is not exactly fresh in any way, and sometimes comes frozen, needing to be defrosted. Fresh just isn't something you'd use to describe them.
The Claim
The biggest focus with Freshology is that they're focusing on quality and freshness. This definitely separates them from other food delivery programs that want you to reheat foods that have obviously been prepared ages ago, and are now frozen and full of preservatives. The food that Freshology uses is claimed to be free of much of the stuff that may not seem like it, but is helping to keep you fat.
Things like High Fructose Corn Syrup, partially hydrogenated oils, MSG, preservatives, additives, and other chemicals can seriously take a toll on your body, and keep you from losing the weight. Freshology says they are committed to keeping these out of your food, and the result is you get fresher food that tastes better.
The Hype
The hype is that this is being used by some celebrities to either lose or maintain their weight. Who wouldn't want to eat like a celebrity, and since the meals are prepared in advance, you know you are eating exactly the same foods. That's pretty powerful, but also a bit of hype, as you don't know exactly what else that celebrity is doing to be in that shape, probably a personal trainer or maybe even diet pills or other drugs. Also, it's not as if you have their genetic makeup so you will not react the same way they do to the same lifestyle choices.
The Cost
You can tell this is based in California because they aren't bashful about charging $40 or more per day to send you your food. For $1200 a month you can feed a family in the Midwest, so this is for those with the disposable income to spend on things like losing weight. The Gold program is $50 a day, and this doesn't include shipping of $10 a day. For lesser priced plans that we recommend go with Bistro MD or Diet-To-Go.
The Commitment
Getting the food handled is just one aspect of losing weight. You should also start exercising regularly as part of your overall strategy. Jillian Michaels has her own Freshology brand, the Gold program and she includes suggested workout routines to go along with your healthy eating.
Evaluation
Freshology definitely saw a need and tries to fill it. There's a big gap left by some of the more popular diet food delivery programs, because they typically don't send out freshly prepared foods. However, those system also cost far less than Freshology, so they aren't really causing a threat to them, and have managed to find their own niche market of people that care enough, and have enough to spend on gourmet prepared foods.
Perhaps their most popular plan is the Get Slim with The Stars program. This is based off of the Dancing with the Stars show, and is specially formulated for men or women, based on the differing caloric needs. You've seen the celebrities that go on the show, they always seem to lose weight and it's not just because of the dancing, you know they are eating better too, so that they look their best week to week, and can wear more revealing clothes. So if you're going to do this program, be sure to add your own dance routine to it so you can get the full effect.
One concern is that they only ship twice weekly, and your package can include up to 4 days worth of food that you are supposed to refrigerate on receiving. Since they don't use any preservatives, you'll be eating food that is at least 4 days old, perhaps longer since it takes time to get to you. This means it could have been prepared a week prior by the time it comes due to eat it.
One of the drawbacks that was mentioned is that they don't take into consideration that the food will have to be shipped after they prepare it, and before you eat it. This means that different items get all mixed together, and don't look the way they're supposed to upon arrival and after getting warmed up. People also said that they don't choose foods that ship well, and use a lot of fresh lettuce and greens that end up brown and wilted by the time they're ready to be eaten.
Final Freshology Review
Freshology should be commended on getting rid of all the extra stuff from the foods they use. However, the feedback from those that have tried it has been mixed. When something costs this much, it should have impeccable ratings and reviews. Several users have mentioned that the variety isn't there, that the food storage and delivery isn't well thought out, and also that their customer service leaves something to be desired.
Our Recommendation
If you can afford it, Freshology can take care of your food needs for a few weeks, but as a long-term way of eating you should look into something more feasible. At these prices you can almost afford to have a chef come to your home and prepare your meals for you a few times a week, that way you know you'll get foods you want, and you won't have to worry about having them shipped.
Official Website: Freshology.com
What do you think? Does Freshology work or not?