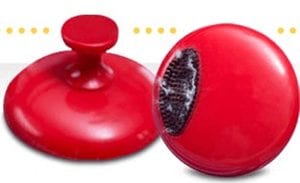 It's time to pack away the winter clothes and bring out the spring/summer ones. This means lots of laundry and probably having to deal with the fuzz that builds up on many different types of clothing. The Fuzz Secret might help you handle this problem.
Overview
The Fuzz Secret is a small hand held gadget designed to take lint and balled up fuzz off your clothing, and lift up the flattened pile of the material. It has no battery or power source. It is a hand held device that has three different brushes. These are used according to the material that you are working on. Just by turning the handle you can change the brush head.
The Claim
The company claims that when the Fuzz Secret is used on clothing it will make the clothing look like new again.They claim that it is safe to use on any type of clothing or material.
The Hype
The simplicity of using this gadget is its biggest selling feature. There is no tape cylinders that need to be loaded. No need to worry about battery replacement. So its easy to use and cost effective. This is what most consumers have set as the criteria for anything they purchase.
The Cost
This item is selling for $10. plus $6.95 shipping and handling. A second one free is offered for an additional $6.95 s & h. On the order form it doesn't look like you have the choice to decline the free offer. So your cost amounts to $23.90 before your tax is added in.
The Commitment
Removing a little lint from clothing is not a big deal. When there is a lot of piling or lint it takes time. There have been some electric fabric shavers that have come out on the market, but even these don't make the job that much faster.
Evaluation
The makers of Fuzz Secret focus more on the pile build up on the clothing as opposed to lint. This is where the material of the item has collected into small balls of fuzz and makes the item look old and used. This occurs from repeated washing, and some materials like wool are more apt to do this. The dryers are usually good for fluffing the materials of clothing up again, but it doesn't work that well for piling. Having a gadget like this would be beneficial if you want to get rid of the lint, pet hair, or piling that has built up.
Final Fuzz Secret Review
We will give the Fuzz Secret a Try/Buy rating. If it didn't appear as though you were being forced into the Free offer we may have gone with a thumbs up. There are some advantages to this gadget. There is the sticky type rollers that are great for removing lint on the market. The problem with these is that it doesn't brush the clothes like the Fuzz Secret does so the material remains flat. The choice of three different brushes is a good thing as well,as it gives an option for which one is best to be used on the various types of material. Some material is more fragile than others and you don't want to be using a heavy brush on these.
Our Recommendation
There are several different types of lint removers available on Amazon, but many of them are the tape type. There are a few pile types that range in price. Overall the Fuzz Secret seems to be a good choice. Some people like to use laundry balls to help keep down the problem with piling. In most cases the laundering of clothes covered with pet hair solves the problem. However, when you go to put some clothing on that has a bit of hair on it you don't want to be waiting for it to be laundered. Here the Fuzz Secret might come in really handy.
What do you think? Does Fuzz Secret work or not?