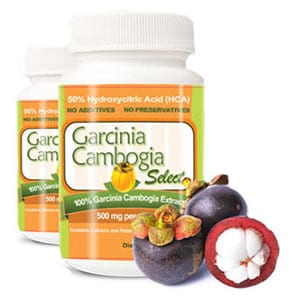 Wondering if Garcinia Cambogia Select is the kind of garcinia cambogia that Dr. Oz would recommend? After the extract was featured on his show everyone scrambled to find one that would provide the dosage he recommended. So does this have it?
Overview
There will always be a new extract coming out to try and help you stick to your diet, or allow you to eat whatever you want without worrying about it sticking to your body. Some people want a quick fix and just want to take a pill rather than dieting and exercising, while others want to assist their healthy changes by taking a pill that accelerates the results they'd normally get over time.
The Claim
The makers of Garcinia Cambogia Select point out all of its weight loss and fat loss benefits, and get specific about which parts of the body you can expect to lose weight from. They say you can burn fat without changing your diet, which Dr. Oz confirmed that this is one of the positives of taking garcinia cambogia, it changes the way your body handles the food you eat, with less emphasis on what you're eating.
They say it works to help control your appetite so you won't feel ravenously hungry between meals. They also claim that it will help you burn off fat as well as prevent you from making more fat from the foods you eat. They also claim that their formula is pure and potent, so you'll definitely get the results you want.
The Hype
Dr. Oz provided all of the hype necessary to make this a legitimate diet fad. Since he refused to mention a particular brand he sent all of his followers out to the Internet to try and find a brand that would live up to the criteria he set. It's important to realize the hype exists, and to steer your way through the madness to find products that are actually worth buying and that will provide results if taken as directed.
The Cost
A one month supply of Garcinia Cambogia Select is $40 plus $8 shipping. They have discounts if you order multiple bottles. You can get three for the price of two at $80, or you can get 6 bottles for $120. There are a few problems inherent with the pricing structure. For one, Dr. Oz and Dr. Chen both repeatedly stated that the reason they liked garcinia cambogia is that it is inexpensive. $40 is about twice as much as competing products.
The problem with giving bulk discounts to get this down to $20 a bottle is that it's not recommended for long-term use, and is designed as a short term way to get you to your idea weight. It's not meant for maintenance, or to be used as a dietary supplement when you lose the weight you want to lose.
They have a 90 day guarantee, but they do not accept opened or used products back, so there's no way for you to try this out and see if it works for you without risking $48.
The Commitment
They don't sign you up for automatic shipping or any sort of membership program, so you're not committing to any repeat orders. Weight loss pills in general are supposed to help you by making it so you don't have to exercise or diet in order to lose the weight, which would reduce your commitment level and leave you with more time to do other things. However, it is recommended to watch what you eat and get regular exercise if you want to see the best results possible while taking it.
Evaluation
When evaluating Garcinia Cambogia Select you have to determine if it's a better choice than other supplements available on the market, and whether it's worth the extra expenditure to choose this one over less expensive options. There is some truth to "you get what you pay for" but the possibility also exists that you don't have to pay this much in order to get a high quality garcinia cambogia extract that Dr. Oz would give the nod to.
The clinical study that they reference is referring to the garcinia cambogia extract in general, and not to their product specifically. It's still unclear how much of a dose you're getting, and whether or not the ingredients it contains have been verified. Without this information you are left to trust that a for-profit company has your best interests in mind, which is never a good assumption to make.
Final Garcinia Cambogia Select Review
We're giving the Thumbs Down to Garcinia Cambogia Select because they don't succeed in justifying their higher price, and they don't provide enough information or proof that their ingredients are twice as superior to merit such a price point. Garcinia cambogia is not an expensive or rare extract, so there must be some other ingredient in it if it's going to cost so much. Since they don't tell you what that ingredient is, they fail to make their case.
Our Recommendation
Even with the added bonuses we don't see how this is a better deal than some of the other products out there in the $20 range. Dr. Oz said to choose extracts that are pure and that don't contain fillers. That's why it's important to choose a product that is very clear and upfront about what it contains so that you can see whether it's the type of product that would be doctor recommended.
What do you think? Does Garcinia Cambogia Select work or not?