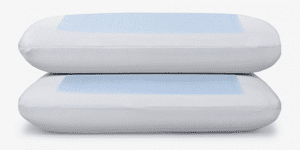 Having a great night's sleep is not only very enjoyable, it is essential for our mind, body and soul. Having a good mattress to sleep on is always a great thing, but sometimes, even more important, is the pillow that to you use to get through the night. When it is warm outside, it sometimes can be uncomfortable to find a cool spot in the pillow, and this is where the Gel Cool Pillow comes into play. and might be a great solution for you.
Overview
The Gel Cool Pillow is so essential because it aligns your spine, your neck, and head, and it allows you to get into a deeper sleep because your whole body is in its best neutral position. If you live in a climate where you experience warm weather, often repositioning the pillow around to find the cool spot is something you do throughout the night. With the gel cool pillow you do not need to jump through the hoops in order to get a cooler night's sleep.
The Claim
The claim with the Gel Cool Pillow is that it will be able to provide you with a much better night's sleep than most other pillows on the market. Anybody who has slept in warm weather knows that often you will your toss your pillow around to try and find a cool spot to lay your head. Utilizing a gel filled pillow they are able to use conduction which transfers heat from your body and allows you to have a much cooler head rest throughout the night. Other pillows that are filled with foam or feathers for example will not be able to keep your head cool throughout
The Hype
The big hype with the Gel Cool Pillow is that for many individuals who have problems sleeping and have already figured out what mattress works the best for them, they might have have saved a few dollars by investing in the gel cool pillow which ultimately can help you achieve a much better night's sleep. The memory foam fully supports your head and neck and the gel cool keeps you cool throughout the night.
The Cost
The cost of the gel cool pillow will run you around $109 .99 at Sleep Country stores but you may be able find one online at a lower cost if you look around.
The Commitment
The commitment with the Gel Cool Pillow is that it will provide you with premium support for your head and neck and the gel cool ingredients will help to keep you much cooler at night. It has a washable cover which allows the pillow to breath, so you are able to promote airflow and get rid of moisture when it's not in use.
Evaluation
Obviously everybody is different and the type of comfort that you need to sleep well at night will be different from other people. The size of the pillow, the type of position it's in and even what it is made up from can dictate what type of support you have. For individuals that like to have a cooler type of head rest, the Gel Cool Pillow might be great for you.
Final Gel Cool Pillow Review
As stated everybody is different in what way they want to sleep throughout the night. The Gel Cool Pillow offers some great support, as well as being able to keep your head and neck cooler at night, even in warm weather, and this can help to promote a better night's sleep.
Our Recommendation
It is always a good idea to have choices and be able to make comparisons so you may want to compare this Gel Cool Pillow with the Wonderflex Pillow.
What do you think? Does the Gel Cool Pillow work or not?