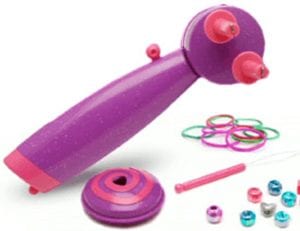 Almost all girls love to spend hours doing their hair. For the young ones its not uncommon to get together with a bunch of friends to do this. With Glam Twirl the hair fun just got a whole lot better.
Overview
This nifty little gadget is capable of twirling the hair, then braiding it. Plus with a change of the Glam Twirl head you can wrap the twirl in some beautiful colorful treads. The fun doesn't stop there because now beads can be added to the braid or twirl to jazz it up even more.
The Claim
The promoters of Glam Twirl say it is capable of creating a whole lot of amazing looking hairstyles. They even promote the young ladies having hair styling parties. There is no doubt that this hair tool is going to be a favorite of the young girls who love to spend a ton of time on their hair styling.
The Hype
Anything that makes hair care fun for the older kids is something that grabs attention because they are so in this. Having a unique gadget that will let them twirl and braid their hair then add some fun adornments to it, is all the hype it takes to get them interested.
The Cost
The Glam Twirl hair styling tool costs $19.99 and $6.99 for shipping. What comes with this is the Glam Twirl automatic styling tool with two attachments which are the braider and wrapper attachments. Also included is 4 rolls of thread, a threader,24 beads,50 hair rubber bands and instructions. The order also includes a free gift of 2 extra rolls of thread,12 extra beads,40 flower design glamzies and 40 heart design glamzies.
The Commitment
Anything that is automatic when it comes to the hair has to be used properly. This means really reading the instructions carefully. Also, while this is going to be lots of fun by the look of it, remember you are working with your hair here. You don't want it damaged by too much twisting and pulling.
Evaluation
While the Glam Twirl looks like a really neat product we do caution about over using it on the hair so that damage doesn't occur. There is also the risk of the hair becoming tangled. The promoters suggest using the Glam Twirl no closer than one inch from the roots. Be sure to follow the instruction guide. It might be easy to class this product as a toy, but it isn't something that should be used by young children.
Final Glam Twirl Review
We are going to give the Glam Twirl a Try/Buy rating. It is battery operated so you are going to have the hassle of making sure you have enough batteries on hand when replacement is needed. This is probably safer than an electrical type hair styler because of the young age the users are going to be. It is also a strong possibility that the kids are soon going to run out of all the various embellishments that really make this product a hit. Although they should be able to buy replacements for these types of hair adornments anywhere,like the hair beads and elastics, for example.
Our Recommendation
The Glam Twirl is a fun and novelty item. It is probably something the kids will use as a group in the beginning until the novelty wears off. Then there will be some that may take it more seriously and actually use it for styling their hair for when they are going out. For the more serious type of hair styling we have reviewed several different types of stylers, like the Perfecter Styler, for example.
What do you think? Does Glam Twirl work or not?