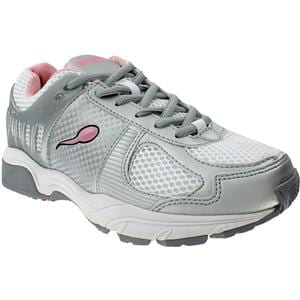 Gravity Defyer shoes are definitely making a name for themselves in the footwear industry. From a risqué logo to the claims on how their shoes work and what they can do for the average consumer, they're creating quite a stir. But it takes more than some advanced technology to win the hearts of consumers these days, so let's delve deeper into this product to see what it's got going for it.
Overview
It's always interesting to see a new competitor enter the shoe race. With brands like Nike, Reebok, Adidas, New Balance, Skechers, and others taking up most of the market, it's unlikely for a small start up to last long and to create brand recognition. Most of them have to have a gimmick of some sort in order to get people's attention, and Gravity Defyer shoes definitely have that going for them. They have a sort of spring suspension system on the heel that is supposed to cushion the blow, as well as propel you forward. So let's see how well these work in real life.
The Claim
They claim that wearing Gravity Defyer shoes are like having half your weight. They have one testimonial where a user says she had given up on walking before using these shoes. That's a bit extreme. But they also say that their shoes are good for diabetics, and those with flat feet. They point to gravity as being a major detrimental factor to your body as you get older. Maybe you've heard of the thought that we'd be immortal if we lived in a gravity-free environment. There's really no way to test it, and there's really no way to confirm that these shoes provide the same sort of benefits.
They credit their VersoShock trampoline sole for creating the feeling of having just half your body weight. They say you can exercise 20% longer by wearing their shoes, and that they are recommended by the American Medical Athletic Association. They also state that you'll be able to do all of your daily activities with more energy, and a lot easier.
The Hype
The hype comes from this small upstart shoe company saying that they've found a way to bioengineer a shoe that equates to a lower gravity here on Earth, and also because of their old sperm logo. They say that all press is good press, and that means that people going Gonzo over their old logo can only be a good thing for the company overall.
The Cost
Gravity Defyer shoes cost more than a conventional pair of shoes, but you'd expect them to, since they're supposed to have major advantages and advancements over a typical pair of shoes. They initially offered a 30 day free trial on their shoes, which led to many people complaining about the charges to their cards, and started the company off on the wrong foot, no pun intended. They've since stopped the trial, and just sell their shoes the old fashioned way now, and have a 30 day guarantee in place instead. A much better system.
Coupon Code: Get 15% off Order. Coupon Code "CJ15". Click here to use.
The Commitment
All that's required on your part is replacing your current footwear with Gravity Defyer shoes. You will also have to get used to wearing them because they fit differently, and wear differently than your typical shoe. Users have said that you might feel a little off balanced for a few days as your leg muscles get used to the difference. But you have to break in any pair of shoes you get, and so this is pretty standard for the shoe buying experience.
Evaluation
All that is left now is to determine whether the spring-loaded heels actually cushion the blow, and work to propel you forward. It seems logical when you look at it that this is what it would do, but shoe companies have been tinkering with shoe heels ever since Nike put bags of air in them back in the day. Users say that it feels great, and absorbs a lot of the impact of your step. This impact is what leaves you feet feeling tired and achy at the end of the day.
With all of the different features: a Smart Memory Master Spring, Twin Stabilizers, and special molding on the midsole, it's hard to see how these shoes couldn't do what they say. As far as it creating a weightless feeling, it's more akin to feeling light on your feet, or having a spring in your step – literally.
The Logo
They've come up with a new logo to replace their old one, finally caving in to store owners that wouldn't put them on the shelves because of it. It used to be a sperm, and they said the concept was that the footwear is giving their users a new life. It's still showcased on many of their products, but they seem to be transitioning to the new one, and phasing out the old one. They've already removed it from the stylized name on their website.
Final Gravity Defyer Review
Gravity Defyer is putting everything but the kitchen sink into their footwear. A lot of shoes these days have come out with a gimmick to set them apart from their competitors, so it's not such a bad thing to have a shoe with lots of different features. Most people are reporting that they feel great to wear, and that they actually do improve their quality of life. We're giving this a solid Try rating, as they're not everyone's cup of tea, but you might find that you really like them.
We like that this company is responsive to the market. They replaced their ordering process when it was shown not to work, they redesigned their logo when people said they didn't like it. It shows that they are serious about being in the industry for the long term, and that they can adapt well to change.
Our Recommendation
You probably won't feel like you're defying gravity, but there's also not much harm in owning a pair of Gravity Defyer shoes. They are just as comfortable as some of their top competitors from the major brands, and some have found them to be the best pair of shoes they've ever bought. With the 30 day guarantee, they are confident enough that if you try them, you won't be sending them back. With most shoes you can't return them once they show signs of wear, but with these you're meant to try them out and see for yourself how they feel.
Official Website: Gravity Defyer
What do you think? Does Gravity Defyer work or not?