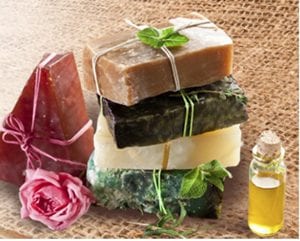 A lot of people seek out small business opportunities that they can start from home, but often get mislead by so many of the "get rich" schemes that are often present on the web. Perhaps taking a different approach and looking at a business that puts you in control of its destiny would be a better way to go. Let's take a look at the Handcrafter's Companion and see if it has the makings to get you started with a viable business.
Overview
one of the biggest and most viable businesses both on and off the web is the beauty industry. To get to the point quickly to start you on the right thinking, the Handcrafter's Companion is a packed full instruction manual on how to make spa products. Now, before you say, wow I could never do that, offering several different reasons as to why not, let's take a closer look at it, and then make you decision from there.
The Claim
The Company claims that the Handcrafter's Companion is going to provide you with over 126 recipes for the appropriate products. Plus it is going to give you a lot of other advice, hints and tips.
The Hype
If you are a woman then you don't need to have any hype pushed on you as to how viable these types of products are. You definitely know there is a market for them, even with the stiff competition that you would be facing. Remember also, this type of business isn't just restricted to the female gender. There is nothing to say that the men can't produce them.
The Cost
You won't believe it but the price for the Handcrafter's Companion is only $27.
The Commitment
There is no way that anyone could ever tell you that you can start a business such as this with absolutely no investment. You are going to need raw materials in order to produce the finished product. So, first you are going to have to study the material. Then you are going to have to source out suppliers for the ingredients. Then you are going to have to consider packaging. Then you are going to have to market your product. Now, it seems like a lot of work, but what business isn't?
Evaluation
There are tons of potential at home businesses that one can start. This particular one has some good features about it, but also it is not for everyone. First the interest and enthusiasm has to be there that relates to beauty in general to which interest in products automatically follows. The start up costs can really be kept to a minimum. In most cases the raw ingredients are easily accessed and they are not all that expensive. Starting with just a few products is the way to go. Packaging is no longer a big cost, and you will be amazed at just how creative you can be with designing and implementing your own packaging at home. Making computer labels is easy and effective. Wrapping soaps in fancy cello paper is a crowd pleaser. If this isn't a business that appeals to you then check out some other information we have given about working from home.
Final Handcrafter's Companion Review
We're going to give this product a Thumbs Up, for those who really want to do something at home that could have a very good chance of bringing them in some extra cash. There are tons of ways to sell the finished product. Even if you didn't want to utilize the Handcrafter's Companion to help you generate a business, you could make a lot of your own beauty products and save yourself a ton of money there.
Our Recommendation
If you think that this is something out of your realm simply because its a business and you aren't business orientated, then put that thought aside. You can always learn business strategy. If you have a passion for beauty and the products that help to create beauty then just look at the many successful women that became icons in the beauty industry because they followed their passion. Estee Lauder was just one of many. Now if you go on with your arguments to say that things have changed since Lauder's time, then take a look at this modern day woman who is a cancer survivor and is truly a success story not only in beating her cancer but starting a very promising beauty business.
Official Website: Handcrafter's Companion
What do you think? Does the Handcrafter's Companion work or not?