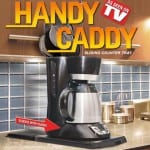 Handy Caddy has one of those infomercials that make you wonder "Are they serious?". But yes, they really are trying to solve a problem, and they think they have a solution to inconveniently placed kitchen appliances. But do they work the way they are depicted, and if so, does it really provide the benefits that are shown by having slide-able kitchenware?
Overview
With all of the different kitchen appliance taking up space on our countertops, it can get quite cluttered along the base of the counter. But having them all lined up and out of the way can make them inconvenient to use. Sliding them is tough because they're not meant to slide. Enter Handy Caddy, the first device? of its kind that is here to fix the situation.
The Claim
Handy Caddy claims that by putting your coffee maker or other appliance on their sliding tray that your life will become much more easy. You'll be able to make coffee more easily, and you'll save the cabinets above from getting stained or warped from the steam.
By putting these gadgets on a slider life is shown to be a breeze, and you'll have an instantly upgraded lifestyle in the kitchen.
The Hype
The hype is a little tongue in cheek if you look at their extended infomercial. They definitely exaggerate how horrible life is without the Handy Caddy, and how wonderful it is with it. It's as if the makers of the product realize that its benefits are a little iffy, and they want the consumers to know that they know this.
The Cost
The cost of Handy Caddy is reasonable, at just $10 plus $5 shipping and handling. That makes a total of $15 for one, but you can get a second one for just $5 more, bringing the per item cost to $10 each. Most of us have more than one appliance so it makes sense just to grab the second one.
However, on the official site they make one of the biggest mistakes possible during the ordering process. They expect you to make a purchase without actually knowing how much your order total is. They have a buy one get one free offer, but it is not clear whether you can just buy one for $10 plus $5 shipping and handling, or whether buy buying one you'll be charged the additional $5 for shipping on the "free" second unit.
You're expected to buy it, not knowing if you're going to be charged $15 or $20, or whether or not you're going to receive 1 or 2 Handy Caddys. Very poor design and execution of their ordering page, or perhaps intentionally vague to foster more $20 purchases.
The other way it could go down is that you could order 2 of them and then be charged the $20, or do you get charged for 2 and get a third one free? It's very confusing.
The Commitment
You'll have to be the one that chooses which two appliances are giving you the most grief, and put the Handy Caddy under them. After that all you have to do is just slide your appliance of choice to where you can reach it more easily, and voila, you're all set.
Evaluation
Handy Caddy is able to make money for itself because it solves one problem inherent in all countertop appliances. They are all built specifically so they won't slide around the counter. They have rubber legs, or at least rubber nubs on all four corners to make sure that if they get bumped the don't slide all over the place.
This can create a problem when you actually do want them to move around on the counter. If you want to slide your toaster, or coffee maker, or food processor to a different location, you'll find that they don't slide easily. You basically have to pick them up and move them over.
Does Handy Caddy Really Work?
Because it's so simple, it must work. It's just a simple sliding tray that you're placing underneath your coffee maker, and it simply brings it to where it's easier to use. If you find that every morning you're fumbling with things, making a mess, or getting aggravated, it might be something you should buy to make things a tad easier for yourself.
The bigger question is not so much the efficacy of the sliding mechanism, but whether or not the problem solved by Handy Caddy is big enough to spend money on. If you find yourself consistently frustrated with your appliances, and you feel that you would get some relief from having a Handy Caddy or two, then by all means, go for it.
Our Recommendation
The concept for Handy Caddy is sound, it can be harder to use appliances that are pushed up against the wall, and having to pull them out and push them back can be hard because most come with rubber legs so they won't slide. If this is something that will benefit you, by all means order 2!
What do you think? Does Handy Caddy really work?