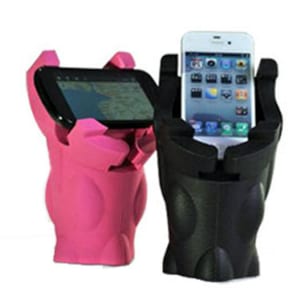 The Hercules Holder takes an old idea and puts a new spin on it, adapting it for today's modern smartphones. It's designed to hold them in place, where you want them, without a lot of hassle. It seems simple enough, and has a design that resembles a wrist and a hand, so they've modeled it after the thing the phone was made to fit in. But does it really work as shown, or will your phone go flying along with it?
Overview
Smartphones make life a lot more convenient, but they're not always the easiest things in the world to hold onto, and their larger sizes means they can be cumbersome. They're also pretty expensive, so you don't want to drop it or have it fall out of a holder. That's why most people are interested in finding something that holds their phone firmly, but doesn't damage it, and makes it easy to use for hands free talking, as a GPS device in the car, or any other time you need your hands for other tasks.
The Claim
Because a lot of smartphones have a nice big screen on them, they can be great for watching videos and movies. The Hercules Holder can hold your phone both vertically or horizontally so it can accommodate however which way you want to use your phone. If you want to watch a movie while you're on the treadmill, use it horizontally. If you are just taking a call in the car, put it vertically.
They say that because of its design it can fit in almost any cup holder that's out there, so it will fit in most cars and RVs, as well as boats and golf carts. They say it can also be used at the gym on the treadmills, or on a shopping cart at the grocery store. They even say it can attach to a stroller, although they aren't specific as to how that's done. It can also be used on most flat surfaces so you can have your phone held for you at an angle that lets you see it.
Because it's made out of flexible foam, it is easy on your phone, but can take a beating. It doesn't have any movable parts, which is a good thing, and usually means a product will work the way it says and last for a long time because there's nothing to break.
The Hype
The hype is that there hasn't been anything really great to come along and fix the problem of what to do with your phone in all sorts of different situations. It seems like a product that's good for one situation, can't adapt to another. An all in one fix is definitely needed.
The Cost
The Hercules Holder is $28 for a set of 2 which includes shipping on both. They do have an option to get additional ones for $9 but it's not forced on you, which is rather refreshing. It's got a 30 day money back guarantee on it, so you can try it out and if you don't like it you're out the $8 shipping charge. The chances are that you'll like it though, as it appears to work as depicted.
The Commitment
A lot of people will find that this makes life a little easier and that they get more enjoyment out of using their smartphone.
Evaluation
The Hercules Holder uses simplicity to make it a winner. By giving it just the right features, and making it out of the right material, they've really come up with something that is useful, and that works the way you'd want and expect it to. Sometimes it is these simple inventions that have the best success records. The more complicated you try to make things, the higher the likelihood that they'll break, or that they'll be misused. With this, your phone goes on easily, stays put, but also removes easily, making it very practical and something you could use every day.
Final Hercules Holder Review
The Hercules Holder If you've ever used a cheap phone holder made of hard plastic, you probably have the experience of it breaking, or not quite fitting the way it was supposed to. With the foam that this uses you'll notice that it goes in place easily and stays there until you're ready to move it.
Our Recommendation
If this spoke to you in the infomercial, then you'll probably get a lot of use out of it and it will last you the life of your phone. Because it's so lightweight and portable, you can toss it in your purse or briefcase and be on your way. Whenever you need it, it's there. And since you get two of them you can keep one in the car so you don't have to set it up again and again, its just there and ready for you to use.
What do you think? Does Hercules Holder work or not?
[kkstarratings_custom_footer]