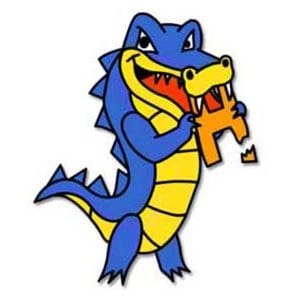 HostGator is one of the biggest hosting companies out there, and you've likely seen an advertisement for them online over the years. If you've been trying to get a read on whether or not they're the hosting you should go with, it can be hard because it seems that there are just as many people saying it's great as there are saying it's not. We'll clear it all up for you as we go along.
Overview
If you're serious about being an online entrepreneur, you'll eventually need to get your own hosting. There are many ways you can go about it, with a dedicated server, a virtual private server, and shared hosting. Most people start off with a shared hosting service and then upgrade to something more stable when their website starts to show success. Shared hosting is nice because it's very affordable, and you can get packages for just a few dollars per month.
The Claim
HostGator claims that you can have an unlimited account, which includes unlimited disk space and unlimited bandwidth for a low monthly price. They say that have a 99.9% uptime guarantee, that their control panel is easy to use, that they can help you get your website started, and that there's a 45 day guarantee.
The Hype
There is a bit of hype surrounding HostGator, but it's mostly because they're so successful, and there are so many people trusting their sites with their hosting packages. When you have as many customers as they do, and advertise as much as they do, and have as many affiliates as they do, you're bound to generate a bit of hoopla. It's just part of being successful.
The Cost
HostGator plans start at $4 a month for their most basic package. The nice thing is that they offer all different levels of hosting, so as your business grows, you can scale with HostGator and you don't need to go looking for a new web host.
The Commitment
You're never obligated to stay on with HostGator, which helps keep everything competitive in this market. If you're ever dissatisfied with their service or their uptime, you can simply transfer your site to a new host. It's not that hard, and usually your new host is more than happy to help you get everything moved over properly.
Getting your site set up on HostGator is very easy compared to other hosts. They use Fantastico, so if you're trying to install WordPress or other content management systems it usually just involves a few clicks.
Evaluation
The reason HostGator has had so much success is that their uptime is very solid, and their customer service is free, around the clock, and helpful. With other hosts there is no live chat feature, so you have to wait hours and sometimes days to get a response. Meanwhile your site could be down and you're losing traffic, rankings, and reputation the entire time.
Case Study
Here's one example of HostGator going above and beyond all expectations. A while back we needed a specific type of software installed on the site. The requirements needed to get it set up were not met by our hosting account at the time. We talked with customer service and they were able to install the necessary items on the server side so that we could run the software. They didn't have to do that, and we've dealt with other companies that would not have done that, they would have just said sorry, not possible.
Why Do Some People Not Like It?
If you go online and try to get unbiased feedback on HostGator, you'll inevitably find some people saying that it sucks, or that they didn't like it. First, you have to consider the fact that maybe these people are trying to steer you towards a different host that they're affiliated with. Second, you have no way of knowing what kind of background that person has with websites and hosting. Maybe they felt HostGator should have been able to do something they just couldn't do. And lastly, it could have just been a bad experience. You don't get as big as HostGator without having a percentage of people not like your service.
What Do Most People Say?
Most people that use HostGator have nothing to say. When you have a web host that you like it just melts out of your consciousness. It should be the last thing you think about, and the last thing you'd come online and tell people you're happy with. Almost everyone you see writing a glowing review of HostGator will have an affiliate interest. The point is that what you're getting in the way of most hosting reviews out there is a mix of people saying it's great hoping to get you to sign up, people saying it's horrible trying to get you to sign up with someone else, and people genuinely saying they don't like it because they had an isolated bad experience.
Final HostGator Review
In our experience HostGator has been nothing but tip top. There are so many ways that a web host can get it wrong, but these guys knock it out of the park as far as how to build and run a web hosting company. They've been around for ages, and their core site and service has remained relatively unchanged. They've kept the features updated, offering more and more space and bandwidth over the years until they finally just made it unlimited. This means you don't have to worry about going over your limits, unless you're doing something nefarious, or are the victim of a hacker.
Our Recommendation
We recommend going with HostGator. They've been a reliable host for years and there have been very few problems. Anything that does pop up gets handled quickly and easily, and the price is right as well. We've tried many other hosting companies, and it's hard to find the right mix of reliability, service, and price. With the 45 day guarantee in place, it's easy enough to give them a try firsthand and see how you like them.
What do you think? Does HostGator work or not?