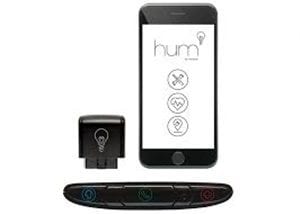 One of the disadvantages of having an older car is not being able to enjoy some of the amazing features and bells and whistles that the new ones come with. One that you can enjoy though if you have a vehicle that is made after 1996 is the Hum by Verizon.
Overview
The Hum by Verizon is an ODB-II Dongle that collects and provides you with all kinds of important information about your vehicle. Any car made after 1996 has a on board diagnostic port (ODB-II) that can be used for the devices like the Hum by Verizon for the collection of information. It is most important when it comes to knowing important aspects of your vehicle.
The Claim
The Hum by Verizon is a unit that is comprised of a Bluetooth speaker and control. It simply clips to the visor of your vehicle then connects with a USB charging cable into the cigarette lighter. Plus, it comes with a iOS and Android App.
The Hype
The hype really revolves around what the Hum by Verizon can do for you which is a lot of things. It will alert you about the statuses of various components of the vehicle like what fuel economy you are getting, how your battery charge status is, the coolant temperature of the transmission. It can give you a whole selection of diagnostic error codes if something is going wrong with the engine, and this is where the app comes in as it will tell you what these error codes means, what repairs may be needed and even an approximate costs. These are just a few of the benefits of the Hum by Verizon.
The Cost
You can expect a monthly fee for the Hum by Horizon. This includes the cost of the equipment, plus you can get additional vehicles set up for an additional monthly fee.
The Commitment
Actually the biggest commitment you are going to have is to really check out Hum by Horizon and carefully review all its features then determine if it is worth a monthly cost. You will discover that you will also be given road size assistance up to a max. of four times a year. You can immediately connect to 911, and one important feature is it can immediately detect if the vehicle has been in an accident and the airbag has deployed which in response the Hum by Horizon will call the driver to assess if help is needed. Plus, if your vehicle gets stolen then after you file a report with the authorities Hum can detect its location and give this information to the police.
Evaluation
With all of the benefits and what Hum by Verizon is able to do such as what we have talked about and more we believe that it is good value for the monthly expenditure. Plus, you don't have to go out and buy a new vehicle just to get a device such as this.
Final Hum by Verizon Review
We are going to give the Hum by Verizon a thumbs up not only because of all the benefits and features it offers such as the ones we have talked about and more, but also for the benefits it affords parents who have kids driving their vehicles. Kids are not too happy with the information that Hum by Verizon is able to give their parents about their driving activities.
Our Recommendation
It really comes down to whether the type of information that Hum by Verizon is important to you. Another alternative if you want to track the driving record of your vehicle is the Driving Activity Reporter.
What do you think? Does Hum by Verizon work or not?