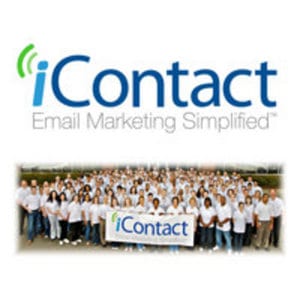 They say over and over that the money is in the list, and iContact says they can help you with that list. If you spend any amount of time in Internet Marketing circles it won't be long before you have someone advising you to build a list and market your products to that list. iContact is email list management software that helps you do it without looking like an annoying spam artist.
Overview
Building up a list can be hard work, but once you have the list in place it can be a nightmare trying to keep everything organized, keep your messages fresh and engaging, and keep track of who is subscribed and who has asked to be unsubscribed. With a service like iContact you not only get list management, but you also get templates so that your emails won't immediately get archived, or worse flagged as spam. Without these sort of tools you're left to your own devices, including trying to manage the list on your own, or resort to free tools that try to deliver the same service.
The Claim
iContact claims that they are your one-stop destination for online marketing services. They say that you will be able to maximize your email and social media marketing with their array of services.
The Hype
The hype is that many Internet Marketing gurus push list building, to the point that many followers blindly jump into the endeavor without thinking things through first. There's no point in building a list if you don't have a game plan for how to communicate with this list, and what to sell to them on the back end. There is money in a list, but only if you handle the list with care, and don't spam them with offer after offer and no real value added to your messages. First sit down and develop a strategy of how you will give them quality information, with a sales pitch at the end, instead of one giant sales letter.
The Cost
iContact is just $10 a month for up to 250 subscribers, or you can double that for just $4 more. This is reasonable, considering most of us that are just starting out trying to build a list will take a bit of time to get that number over 500. When you do, the next level up is $29 a month and is good for up to 2500 members. Since the whole point of having a list and marketing to them is to make money, you should be able to justify the cost. For example, if you get a 1% response rate on your offer, that's still 25 sales from one mailing to 2500 people, which should be enough to get you to stay on for another month of service from iContact.
The Commitment
You're not obligated to stay on with them, so you don't have to worry if you change your mind at some point, or if you find a better email solution. You just cancel your account, and move your list to another service. It's a competitive market out there, so these businesses are used to people setting things up, changing service, and coming back. It's all part of the cycle.
Why is the Money in the List?
What do they even mean by the money being in the list? The thought is that if you develop a loyal enough following, and your subscribers view you as the authority figure in a certain niche, that you can use that authority to recommend products and services and collect a commission from the sales you make. You can also rent your list out to others that are in the same or a similar industry and get paid just to send other people's messages to your responsive list.
That's the thought anyway, but the execution can be a bit tricky. It doesn't take much these days for people to hit the spam button on a message, or for a spam filter to label your message as spam and keep it out of someone's inbox. That's why with something like iContact people have to opt-in and confirm their decision, so your messages should be hitting their inbox. Their software also lets people easily unsubscribe, so you don't get labeled a spammer.
Keeping people happy with your messages and wanting to read the next one is key. Don't mismanage your hard-earned list by going in half-cocked and expect a service like iContact to fill in the gaps of your business plan.
Final iContact Review
iContact has a lot of features for the price, and most people that try it have rated it highly. We're giving it our Thumbs Up rating because they seem to over-deliver, and are quick to offer new ways to help reach your audience, like social networking integration and strategy. When it comes to growing your business there are assets and liabilities and we definitely think that iContact would fall under the asset column if used consistently and strategically.
Our Recommendation
Free trials without credit cards make us happy. You get to take iContact for a test drive for a full month before they start asking you for money. If you've already got your list ready you can start sending out message and gauge what sort of response you get right from the start. We would recommending getting your list up to 100 people first before signing up for the trial. Anything less than that and you're not really getting statistically significant feedback that you need to make a purchasing decision.
What do you think? Does iContact work or not?
[kkstarratings_custom_footer]