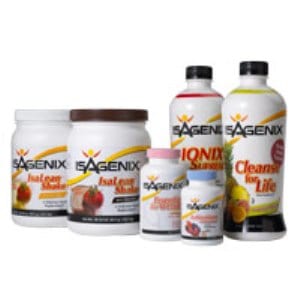 Isagenix seems to primarily be focusing on promoting their business opportunity, and says that they can help you lead a more healthy and wealthy life. Their products are mostly geared toward cleansing, health, and rejuvenation. If you've been wanting to align yourself with a company that is all about well-being, you might want to look into this further.
Overview
Any time you see one of these dual sort of offers, where they're trying to sell you on both a product, and a business opportunity at the same time, you have to take a step back. It's really going to be an all or nothing proposition. You're either going to get totally involved in it, and go gung ho about it, or you're not. If you just buy the product and use it and like it, you'll probably going to want to sell it. And if you just try selling it people are going to want to see that you're using it, and have a story to tell about how it's improved your life. So really there's not one without the other.
The Claim
Isagenix claims that you can not only become healthier by using their products, but that you can make money by selling them as well. They don't make a lot of outlandish claims about how much you can make, keeping it vague by saying some of their members are making "a fortune". They also don't make a lot of big claims about their products, even going as far as saying what you can and can't say to prospects about what the products can do.
The Hype
These sort of sales schemes provide a lot of hype because if they can sell you on selling it, then there's a vested interest in using and liking the product. Money is a strong motivator, and if they can get you hooked on the thought of selling this to others, even before you try the product, they are slanting your evaluation process, and you will try to find things that you like about it, in order to start selling it with a clear conscience.
The Cost
The first thing you'll have to consider when thinking about selling Isagenix as a business opportunity is that there are already people with their websites listed in Google shopping that pop up in search results when users search for the term Isagenix. You're going to have a tough time selling it online, so your next best bet is to sell it face to face using your networking skills.
According to them you can get started for $150, and this is surely one of the smaller levels. If you're serious about it there are bigger packages you can get so that you'll be able to sample a larger assortment of what they have to offer. They also have live training events that you can attend for a fee, and a challenge that you can get people interested in so that they can take the products in order to complete the challenge, similar to the ViSalus challenge that is so popular these days.
The Commitment
Your first commitment is buying a business package from them which will include an assortment of products that you can either sample for yourself, or give to prospective customers as samples to try to win them over.
Evaluation
Isagenix has an extensive line of different products, and they're all packaged well, and seem to really try to be grounded in nature, and well-being. They've got products that are designed to cleanse the body, but also nourish it and help you live better. It wouldn't be the worst products to get behind and endorse, because people are always interested in living longer and being healthier. The biggest challenge would be to become a living case study, using the products to make a dramatic change so you can increase the belief level and get people to buy.
One of their flagship products, Product B, is specifically going for those that are interested in anti-aging products, saying that it contains antioxidants and supports telomeres in an effort to slow down the aging process and provide health benefits at any age. It's just one example of the kinds of products you'll find, and almost all of them are health related. Health products will always be in strong demand, so there's no need to worry about there being a market for these kinds of products if you do decide to sign on.
Health and Well-Being
In today's day and age it's nice to find something that you can get involved with that is all about trying to help people live better. It seems that more and more products these days are promoting a less than desirable lifestyle, with so much fast food, energy drinks, and artificial sweeteners and preservatives. There needs to be some sort of opposition to this onslaught to the body. If you can make it your mission, and your business, to help people that might be really satisfying.
Final Isagenix Review
Isagenix is positioned to become more and more popular as the baby boomers continue to age. All of its benefits appeal to those that have begun the aging process and are looking for a way to slow it down and turn back the block a bit, or at least live a healthy life in their golden years. By getting involved with them you stand a good chance to capitalize on this trend for the next decade or more. They definitely merit more research and due diligence on your part, and that's all we have to say about that.
Our Recommendation
Be sure to bring a level head and don't get swept away by the thought of making thousands and thousands of dollars with this in your first few months. In all likelihood your progress will be slow at first, but if you take it seriously and throw yourself into it, the potential is there. But the same can be said for starting any business, so you have to determine if this is really the one you want to get behind, or if there is something else that's a better fit.
What do you think? Does Isagenix work or not?