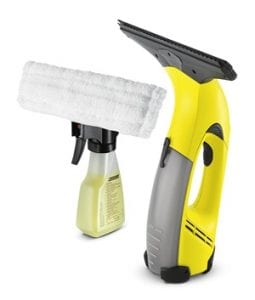 Cleaning is something that we have to do at any time of the year, but when the seasons change we tend to be a little more intense. So now that spring is soon to arrive, then it means gearing up for some spring cleaning. Included in this is cleaning the windows which is no easy task, thanks to all the winter grime that has built up on them. However, there is a nifty product that just might make this job a whole lot easier and it's the Karcher WV 50 Plus Window Vac.
Overview
The Karcher WV 50 Plus Window Vac allows you to clean your windows or any other smooth surface without having to deal with all the dirty streaks that continuously run down the window while you are cleaning. If you have ever done window cleaning before you know that a squeegee is great for this. But when you attach it to a vac system it makes it even better.
The Claim
The promoters of Karcher WV 50 Plus Window Vac claim that this is the easiest and quickest way to clean windows. You can do everything in one step. This means you can spray on your cleaner, use the squeegee to clean off the grime and use the vac to retrieve it so it isn't running down the glass.
The Hype
One of the great aspects about the Karcher WV 50 Plus Window Vac is you don't need to struggle with a bunch of paper towels to clean the residue off the glass or polish it.
The Cost
You can expect to pay $57.12 for the Karcher WV 50 Plus Window Vac. With this you get the squeegee, the bottle to hold your cleaning fluids and the vac unit, plus you get a detergent sample.
The Commitment
Let's face it, cleaning windows is a commitment in itself. If you enjoy having clean streak free windows to look out of it then it takes time and effort. As far as extra commitment with using the Karcher WV 50 Plus Window Vac there really isn't any. In fact, it seems like you are going to get this job done and over with much quicker and with more satisfactory results.
Evaluation
At first we had to consider whether this really was just another gimmick, but when we saw the feedback that the Karcher WV 50 Plus Window Vac is getting we have to admit that we are impressed. There is definitely a demand for a product such as this so we don't need to question its potential value.
Final Karcher WV 50 Plus Window Vac Review
We are going to give the Karcher WV 50 Plus Window Vac a thumbs up rating. It is obvious that this is something that people want. On Amazon it has received 522 reviews totally a 4.6 star rating. It is affordably priced when you consider you will be dramatically reducing your costs for paper towel usage that comes with window cleaning. Not to mention that it looks like the Karcher WV 50 Plus Window Vac is going to be a real time saver. Also, think about the other flat surfaces that you normally have to clean and determine where the Karcher WV 50 Plus Window Vac could be put to good use there.
Our Recommendation
If you are looking for an alternative or some to compare this product to then check out the Glass Wizard.
What do you think? Does the Karcher WV 50 Plus Window Vac work or not?