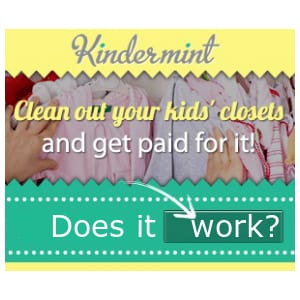 KinderMint is a service that helps turn your child's clothing into cash by reducing the amount of clothing they've outgrown. They are in the business of buying up clothes that are perhaps a little too nice to just be given away, and that don't have a younger sibling to inherit them. But does the service actually work?
Overview
For many families, clothing goes through a few different owners before it finally becomes useless. But for others its a matter of just having one child, or a matter of having a boy and a girl which makes sharing clothes a bit troublesome. If you've noticed that the situation is getting dire and you just can't bring yourself to give away clothing that you just paid so much for, this might be a solution that makes several people happy, including you.
The Claim
The big claim being made by KinderMint is that you can earn money from clothes that you would otherwise be giving away. While it is possible to take your clothes to a consignment shop and try to make money on them that way, you're usually offered a very low price. If there isn't one in your area you might be stuck with your clothes and your only option is to donate perfectly good items that you just paid top dollar for.
The Appeal
The reason this has the potential of becoming mega-popular is because there are piles of kid's clothing in closets across the country that need to find new homes. Currently there's no really good way to go about this, since the stuff at consignment shops is usually second rate, and new clothes that are nice are usually pretty expensive, especially considering your kid will only wear it for a short time.
The Cost
It's $4.95 to get started, but that's a refundable deposit put in place by KinderMint to cut down on sending packages to those that don't follow through. Technically the service doesn't cost anything, since the money is refunded when you send the clothes in, and since they are paying you for clothes you'd otherwise be giving away.
The Commitment
Your only real commitment is to send in some clothes or risk losing your $5 deposit. You're also basically committed to accepting their determination of what your clothes are worth. They aren't in the business of sending your clothes back to you if you don't like their offer, and it's basically the last time you'll see your clothes if you decide to send them in. That's why you should go through and look at the fine print of their offer before shipping the package out, or even before paying the deposit to get the pack in the first place.
Evaluation
Kindermint is tapping into a largely untapped market up to this point. Several parents have wondered what to do with all of their child's clothing as they rapidly outgrow them. At first it may seem a little Scrooge-like to sell something that you could donate, but at the same time every little bit helps the Family Inc., and those that are buying your used clothing at a greatly reduced price than what they'd find it for in stores, everybody is getting a good deal here.
It's important to go through the details about what they accept, and what they don't, so that you have a better idea of what they're all about and why they're offering this service in the first place. They don't want your heavily used, stained, battered, or already-been-handed-down several times items. They want your like new, barely used, brand-name items so they can resell them. There is enough wiggle room in the terms that the leverage remains with them, so you should follow the instructions closely to avoid disappointment.
For example, whether a package is "stuffed full" is a rather subjective call, and one that lies with KinderMint. They also reserve the sole right as to what constitutes "exceptional quality"
Final KinderMint Review
Overall, KinderMint is worth trying out, just make sure that you abide by their requests and send the pack back stuffed full of clothes you think other moms and dads would actually want to buy for their kids. This isn't a way to make a few bucks off of clothes that you'd otherwise just lug to the local Salvation Army. This is a way to make money selling clothes that other people would want to buy. Since they're going to have someone look your clothes over and decide the value, you need to do the same thing before sending it off.
The flip side to this equation is that they're stocking an online retail store with the clothes that are currently coming in. That's why what they're really preferring is clothing that has the tags still on it, ensemble pieces, and clothes that are meant for special occasions, like holidays.
Our Recommendation
If there's no younger brother or sister on the way to hand the clothes down to, it makes sense to keep things from piling up and also to make some extra money to help pay for replacement clothes. While the most generous thing to do would be to donate the times to families in need, this might not always be the most financially sound way to go about things. You can always donate the especially used up clothes that are still good, but that someone else wouldn't want to pay for.
Official Website: KinderMint
What do you think? Does KinderMint work or not?