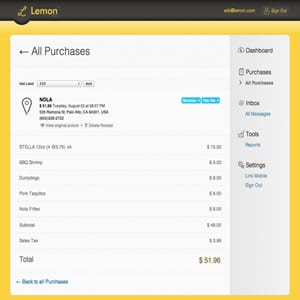 Paper receipts are quickly becoming a thing of the past, and Lemon is hoping to speed this process along. They give you a special email address so you can have all of your receipts send there instead of your inbox, and they also allow you to scan the old school paper receipts with your phone, and render the image so they can pick up the needed amounts and purchases. But does this app save you from all of those wadded up paper trinkets, and does it give you any better idea of how you spend your money? And if it does, do you really want to know where your money goes?
Overview
Comedian Mitch Hedburg had a bit about receipts where he bought a single doughnut and the clerk handed him a receipt. His retort was that they didn't need to involve ink and paper in the transaction, because he couldn't imagine a scenario in which he needed to prove that he had purchased a doughnut. As we rely more and more on digital gadgets to get us through the day, paper receipts are needed less and less. Many of us track our bank statements online, and don't need to look at the receipt as long as we pay with a debit card. So do we really need something like the Lemon app?
The Claim
Lemon claims to organize all of your receipts digitally on your smartphone, as well as organize all of that data into easy-to-read charts and files so that you can get an instant picture of how you spend your money, and where. Theoretically this can help you curb your spending if you see that you're buying too many lattes at Starbucks, or keep an eye on patterns to see if you've started spending more on groceries than you had in previous months.
The Hype
The hype is that this is poised at being a time saver, and financial assistant, but it seems like an additional step having to scan your already inconsequential scrap of paper. Most of us track our purchases digitally already, and the receipt is usually quickly discarded. Additionally, tallying up your monthly purchases is easy enough already, unless you pay cash for things a lot.
The Cost
If you don't mind the ads, it's free to use Lemon. They have additional plans that involve monthly fees, for example the data plan is $9 a month, gets rid of the ads and adds itemization capabilities to your receipts. It seems odd that someone worried so much about tracking their expenses would add another one to the list.
The Commitment
Whenever you get a paper receipt by paying cash for a purchase, you will need to scan it into your phone. In order to get the most use out of it you'll want to commit to looking at the flashy charts it creates, and see if this gets you to manage your money any better, or create a budget for yourself in certain areas, like entertainment or food.
Evaluation
There is no desktop application available, so you can only download this to a smartphone, which is bad news for those that don't have one. People have complained that the app is buggy, but others say that it works just fine, and that it has helped them with their expense tracking. The interface itself is pretty easy to use and navigate, which can make the process fun at first. But it's tedious to have to stop and take a moment to input a receipt, especially for trivial purchases.
Since it's free to download, try, and use, it only makes sense to give it a shot and see if you find that it helps and fits with your lifestyle. For us, it's too close to clipping coupons and there's a better way to spend our time than fussing with receipts.
Final Lemon Review
Lemon seems to work alright, but it's a little behind the times. Maybe before they came out with debit cards that link right to checking accounts this would have been a good idea. Nowadays its easy enough to track where your money is going using the online banking software provided free with your checking account. Chances are you already know where your money is going, you just don't want to admit it. Many places these days will even ask if you want a receipt, which you can decline in order to save the paper.
Although the scanning of the receipts seems a little obsolete, we do like the idea of a special email address for receipts, and this cuts out the scanning process so you don't have to take that extra step. What we'd really like to see is a way for this app to link up with our checking account data so that we can see the pretty results in the form of pie charts and organized statements. Maybe in the next version.
Our Recommendation
While the Lemon app seems to function properly, we're not exactly sure we recommend tracking each little expense. While it's a good idea to know where your money is going, it's maybe not the best idea to focus on it so much. Take a macro look at things, not a micro one. The Lemon app will help you track the outgo, but focusing your attention on the income might be a better financial strategy.
What do you think? Does Lemon.com work or not?