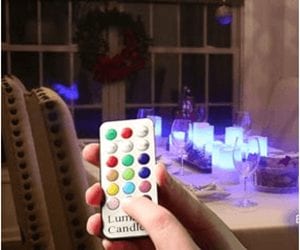 When the weather is hot and sticky you probably aren't in the mood for purchasing candles, but yet the enjoyment they can bring is really an all year round feature. The Luma Candles are not going to add to the heat of the summer but could really bring some light for creating a wonderful ambient setting.
Overview
The Luma Candles are a set of three candles that are flameless yet are made from real paraffin wax that has the wonderful scent of vanilla. The flickering light that they produce comes from LED lights and can be remote controlled to change both the color of the candle to 12 different choices as well as 2 light settings.
The Claim
The Company is quick to promote that you are going to get over 100,000 hours of lighting use from these candles. They state that they remain cool to the touch and the fact that no flame is created means they are safe. They point out that there is no mess that is normally created by standard candles, and yet you get to enjoy the wonderful aroma of the vanilla scent.
The Hype
Safety is the big feature here. While most people love to make use of candles there is always the worry of accidental fire that can come with them. The company has addressed this concern with their offering of the flameless candle. Then most people really like the extra pleasure that a scented candle brings so the makers of Luma Candles has made sure that this feature has not been lost in their product. Finally there is the cost factor. No doubt that whenever you burn a standard candle in essence you are burning money as they tend to burn quickly and good quality types are not cheap. With this product you are getting a lot of light for your initial investment.
The Cost
The official website for Luma Candles is offer a set of two candles with a third large one for Free at the cost of about $29. which includes the shipping. For approx. an extra $9. to cover the shipping you can get an extra set.
The Commitment
You are going to have to decide that you are going to put them to good use. Being as they generate no heat you really can use them to create some ambiance on a warm summer night either indoors or out. You may also want to buy a few sets to keep on hand to give away as gifts for known candle lovers on your gift giving list.
Evaluation
While the promo material on this product really is presented well, and the layout of the different color options really makes them intriguing, there are similar products on the market that have the same basic features specifically the candle light remote control. Price wise they are close to what is being asked for with the Luma Candles.
Final Luma Candles Review
We are going to give the Luma Candles a Thumbs Up rating. While it is comparable to a lot of other similar type candles, we like the extra touch of the vanilla scent. It just makes it extra special, and more like a traditional candle.
Our Recommendation
There are so many different choices when it comes to special lighting like that which the different forms of candles can produce. If you are the type of person that likes the relaxing atmosphere that comes with soft light then you may also want to take a look at what we had to say about the Infinity lights.
What do you think? Does Luma Candles work or not?