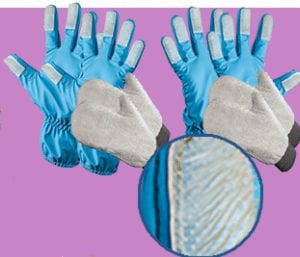 The Magic Bristle Gloves are a cleaning aid that you wear like a normal set of gloves, that allow you to get at those hard to clean places by using your fingers and hands to get into crevices and around objects are difficult to clean. But just how well do they really clean?
Overview
It makes sense to be able to use the fingers to get at these hard to get at places, and its something that most of us do when we get frustrated with the grime and dirt that just can't be reached with conventional cleaning tools.A lot of times we will wrap a cloth around a finger to try and get at these areas or resort to trying a toothbrush hoping its small enough to reach it. Having something that gives you the power to clean it properly and gets right to the spot makes sense.
The Claim
These are claimed to be perfect for getting into areas that need to be cleaned, where a cleaning brush just can't get.These Magic Bristle Gloves are supposed to be durable and strong and reusable. They say that they will keep your fingers and hands dry and protect them.They are apparently comprised of hundreds of silicon bristles which are supposed to be non-abrasive yet strong enough to clean the area. The company also says that they are a great time saver.
The Hype
Our research shows that so far there doesn't seem to be many similar products like this dedicated to hard to get at places that need cleaning, that have the built in bristles. There is a trend lately though for using other types of gloves for other chores like removing hair from shedding pets, or wearing special gloves for cleaning vegetables. All of these are meant to get a hard job done quick and easy, and it seems that this company is following that concept. With this seeming to be a relatively new concept, it appears that the company has added a bonus of 2 microfiber dusting mitts and these are not a new concept as there are plenty of different types of these around. So by mixing an old product with new it reduces the risk of ending up with just one product you may not be happy with.
The Cost
The cost for these Magic Bristle Gloves is $24. when you include the shipping and handling for both the gloves and the dusting mitts. So in total you get 4 Magic Bristle Gloves and 4 Micro Fiber Dusting Mitts. There is a 30 day money back guarantee but that doesn't include the price of the processing and handling.
The Commitment
Once you get used to wearing gloves for your cleaning it should be easy for you to remember to put these on when you are trying to clean tough places. They should fit well due to the gathering in the wrist area. You will also have to be cautious in what cleaning solutions you are using so they don't damage the gloves or the items being cleaned.
Evaluation
Overall these really could be a solution for cleaning hard to get at places because most of us have tried something similar by wrapping a cloth around our fingers to get at the grime, or even scratching at it with our nails. These gloves replace all that with a lot less effort. Plus there is less risk of damaging the objects being cleaned which can occur when we resort to using hard objects to get into these areas and try to scrape the grime and debris out. Although it is nice to have the extra bonus of the micro fiber mitts they shouldn't be the buying feature here. You can get these types of dusting gloves at a cheaper price on their own. The real purpose of the purchase here is for the bristle gloves and what they are supposed to be capable of doing.
Final Magic Bristle Gloves Review
This product is going to receive a solid try/buy rating from us because it addresses a real cleaning problem. Silicon is known for being durable yet non abrasive and that is what the bristles of these Magic Bristle Gloves are made of. Extra care has been taken with the fit of the gloves which is evident in the gathered wrist.They potentially could be a money saver when you add up all the different types of sponges and brushes that you may be tempted to buy that just won't fit into these hard to get at places. They definitely will be a time saver and reduce the risk of damaging your items. Plus your fingers and hands aren't going to take the normal beating they do when tackling these types of tough cleaning jobs.
Our Recommendation
If you really want to quit wasting time and money at trying to get the cleaning of those hard to get at places done then this seems like the ideal answer. Not only do you get the job done right but it saves on your hands, fingers and nails too.
What do you think? Does Magic Bristle Gloves really work or not?