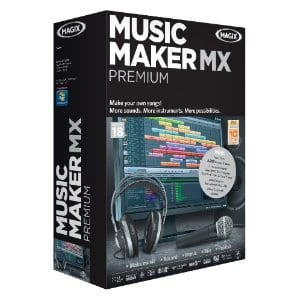 MAGIX Music Maker MX is a beat and music making software that is supposed to take you from amateur to pro in no time at all. It's a complete system, featuring everything you need to get started, all downloadable to your computer. There is a lot of software out there that claim basically the same thing, so let's see how this one stacks up to the competition.
Overview
Some people are surprised to learn about how popular hip hop and club music is. The beats that show up in today's most popular songs are hypnotic and can get stuck in your head, or can get an entire dance floor bouncing in unison. Singers and artists are always looking for a catchy beat that they can sing to, and there's even a ready market of people looking to buy finished beats for use in advertisements, movies, and other media. Some people want to make it their hobby, while others want to make it a business.
The Claim
Music Maker MX claims that right out of the box you'll be able to start making beats, even if you don't have any previous experience, and don't have any equipment. They say that with their software you'll be able to not only make music, but share it directly using sites like Facebook, YouTube, Twitter, and SoundCloud. This would allow you to quickly get feedback from your friends on how you're doing, and could also build awareness of your skills.
The Hype
Telling someone they can make music like a professional with just a piece of software is a form of hype. Pros are pros because they put hours and hours into their craft, and do so over an extended period of time. This might cut down the learning curve, but if you don't put the time in you're not going to make music that someone would want to buy, or that sounds like what you hear on the radio.
The Cost
There are three different price points for Music Maker MX depending on how much you want to spend, and how involved you want to get with making beats and music. Their basic package is $60 and they say it contains all that you need to make music and share it with others. The next step up is $100 and it has everything the basic package has plus some enhancements so you can do more, and have more samples to choose from. They also have their more advanced package at $400 and that has everything the first two do, as well as a bunch of added features to get up to that price point.
The Commitment
It's really up to you how committed you want to get with this. You can just dabble in it with the basic package and make some music that you and your friends like to listen to. That might take just an hour a day every now and then. If you want to make this a business of yours where you're selling your creations, or where you get to a level where someone would hire you as their music creator, you'd have to put the time in to learn about all of the functions and be able to know what sounds good, and how to make it sound better.
Evaluation
Music Maker MX gets pretty good reviews from those that have tried it out. It seems like early versions of the software had bugs in it, but since then they've all been fixed and now most people say this is a pretty comprehensive suite of software that provides what you need in order to make music, even starting with nothing. They've got all you'd need, things like synthesizers, drum engines, and a library of sounds and loops to provide the foundation for your own unique creation.
Being Realistic
It's good to keep a level head when it comes to charting out your career as a music producer. Not to say it's impossible to break into the industry, but it's definitely a competitive marketplace so you're going to have to have a unique combination of skill and artistry, and then put the time in to get that special sound quality that's radio worthy. Entry-level sound kits like these are a good way to test the water to see where you're at, and whether you like it or not.
Final MAGIX Music Maker MX Review
We're giving Music Maker MX a Try rating, but you might want to consider trying some other beat making software packages before this one. There are others that clock in at a lower price point, have the same or better features, and have a 60 day money back guarantee so you can download and try out the full system before making up your mind. One such package is Dr. Drum, but there are others as well. That way you don't have to try a limited version, or spend too much for the same functionality.
Our Recommendation
If you're serious about making beats and other music, you'll eventually have to invest in software to help you do it, unless you plan on spending thousands of dollars for equipment that essentially does the same thing. It's nice that technology has advanced to the point where you can replicate what these expensive studio quality machines can do, all from your desktop. It's up to you to learn how to use them properly, and put the time in to watch the videos and see how it's done.
What do you think? Does MAGIX Music Maker MX work or not?