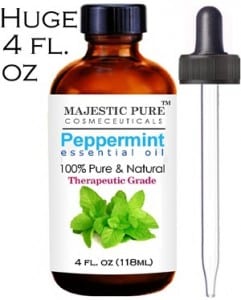 A lot of people are looking into natural alternatives for products that help them feel better or to enhance their over all well being. Is Majestic Pure Peppermint Oil one of these? A lot of people seem to think so.
Overview
Peppermint oil is classed as one of those important essential oils that a lot of people are impressed with. The Majestic Pure Peppermint Oil seems to be a brand that is of good quality and has captured the attention of those that believe in the benefits that this particular oil is supposed to offer.
The Claim
The promoters of Majestic Pure Peppermint Oil are indicating that this particular type of oil has many uses. One of the common ones is for headaches such as those caused by stress or migraines. They are promoting the product to help with asthma, and sinus congestion, as well as other ailments. It is also reported as being great for other problems such as head lice, or as an insect repellant.
The Hype
Good quality peppermint oil has created its own hype because of its ability to produce some pleasing results. The promoters are gleaning off the already established popularity of the oil in itself. They are using the excellent client feed back that they have received from clients that have purchased through Amazon, for example. The Majestic Pure Peppermint Oil is amongst the top 100 best sellers for this type of product there. It has a impressive 5 star rating out of 1,033 reviews.
The Cost
You can expect to pay $13.95 for 4 ounces of the Majestic Pure Peppermint Oil. Do keep in mind that you will need to use a carrier oil to add this oil to for whatever application you are going to use it for.
The Commitment
If you are thinking of using any type of essential oil, it is always a good idea to learn about it. Although these oils are truly a gift of nature, they can still have some contraindications to them, or some people can be sensitive to them.
Evaluation
There is a lot of supportive evidence that many of these types of oils have some great benefits to them, but they must be used properly. One of the biggest problems is that the good quality and pure oils including peppermint oil can be expensive. If you buy the cheaper ones they are so diluted that you really are not going to derive any benefits from them.
Final Majestic Pure Peppermint Oil Review
We are giving the Majestic Pure Peppermint Oil a Thumbs Up. Mostly because the product is supported in it's quality based on the results that its users are getting. If this was an inferior production of the peppermint oil the results would be far less. Be a little careful when reading the directions for this product. The promo material can be a little confusing. In the description of the product it indicates that it is a therapeutic grade suitable for vegans and vegetarians, however in one of the customer comments it indicates that the instructions say for external use only. When you look at the summary for using the product it is all external uses.
Our Recommendation
We recommend the use of peppermint oil for a lot of different purposes. It can be used as mentioned for headaches and other ailments, but also for several household uses. You may want to think about it as a treatment for head lice which is so common when the kids are in school, or as an insect repellant. Remember that in most cases the oil has to be diluted with a carrier oil because the straight peppermint oil is extremely strong. Also remember that when it comes to any physical ailment you should always check with your doctor first before taking on any self treatment.We have previously talked about aromatherapy which is one way of using many of the essential oils.
What do you think? Does Majestic Pure Peppermint Oil work or not?